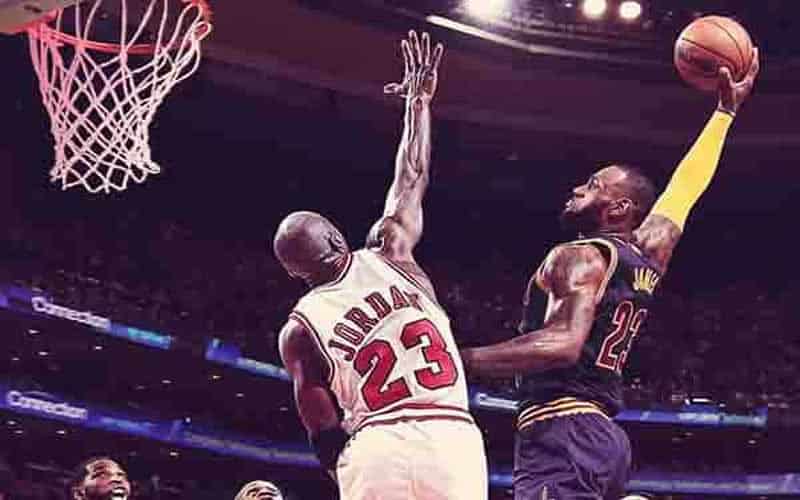 Since LeBron James entered the NBA in 2003 he has been compared to Michael Jordan numerous times by fans and experts alike. The comparison must have been flattering for LeBron at first, but by now, he may be sick of it. This weekend we saw the Golden State Warriors take the 2018 NBA Championship over LeBron and the Cavilers. Cleveland losing the Finals was not a big surprise considering that the Warriors won last year, but what was a surprise, this year the Warriors swept the series.
Even Cleveland fans will tell you that this was an off year for the Cavs after the departure of Kyrie Irvin and the Isaiah Thomas trade. Fans were even joking saying that it was LeBron vs. the Golden State Warriors and in a way, it was. No one will argue that any team LeBron is on is LeBron's team, but this year especially since he lacked a real number 2 or 3 superstar type of guy.
After the big loss, the internet broke out with a bunch of Jordan vs LeBron comparisons again. Most of which was referring to the number of times Jordan went to the playoffs and won compared to LeBron. Michael Jordan won 6 championship titles with the Chicago Bulls during the 1990's and won three consecutive championships twice. LeBron has three championships, 2 with Miami and 1 with Cleveland but has played in 8 consecutive NBA Finals. Jordan only played in 6 (not consecutive) and won all 6 but was arguably on a much better team than LeBron.
LeBron is one of the best NBA basketball players of all time and is arguably the best active player in the NBA currently. LeBron and Jordan are such different types of players, it is hard to even compare them. Its best just to leave the argument as a timepiece. LeBron is the greatest player in the 2000's, and Jordan was the greatest player in the 1990's. Jordan has a few more notches on his belt but he has also played throughout his career, where LeBron has a few more years to go.
The 1990's was a different era and while there were many good players the rules were slightly different, and the game wasn't played like it is now. The 1990's Bulls will forever be etched in basketball fans hearts since they were among the first "dream teams" and the third team in NBA history to three-peat the NBA Finals. The 1990's Chicago Bulls featured names such as Michael Jordan, Scottie Pippen, Dennis Rodman, John Paxson, Horace Grant, among other players.
While Jordan didn't ever lose a Finals match-up, he also didn't make it to the Finals as much as LeBron. Also, when Jordan played for the Bulls, they were clearly the best team in the NBA, unlike LeBron who has had to play an all-star team (Golden State) in the Finals the past 3 years. Jordan and the Bulls had some stiff competition too but any team with Michael Jordan was usually favored to win.
The 2018 NBA Finals did not turn out the way LeBron or the Cleveland Cavilers would have liked, but it did live up to the sportsbooks projections. LeBron is a great basketball player, but it takes more than one player to beat the Golden State Warriors who's starting line-up features Kevin Durant, Steph Curry, Klay Thompson, Draymond Green, and Andre Iguodala. Anyone of those players could carry a team to the playoffs if not the finals. The 2018 NBA Finals was the 3rd championship the Warriors have won in the past 4 years. Many fans and experts are now referring to them as the next 90's Bulls or the newest NBA dynasty.
LeBron played hard and fans noticed. It is likely that LeBron will play somewhere else next year as he could sign the biggest NBA contract ever. LeBron has proven that he can win the Finals with a little help and that he can carry a team to the Finals if need be. LeBron is entering the later years of his career, and like most players, wants to take care of his legacy. LeBron is already a saint in Cleveland as he did bring them 1 championship but without a few good players beside him, it is unlikely that he will win anything else in Cleveland.
Most fans and analysts are predicting that LeBron will go to a bigger NBA program next year and sign an outlandish contract. The possibilities include Houston, L.A. Lakers, Golden State, and others. The Cleveland Cavaliers are also going to try and retain LeBron and have the money to keep him but like most aging players, LeBron is likely more concerned with winning and his legacy.
Online sportsbooks favored the Warriors to win and got it right this year. It would be interesting to see what would happen if LeBron was able to pick his team in a bigger, more desirable market. Next year will also be interesting to see if the Warriors can keep their team together since some of their players are reaching free agent status and some of them are expecting contract extensions. LeBron is expected to leave Cleveland but only time and the offseason will tell where he will end up.