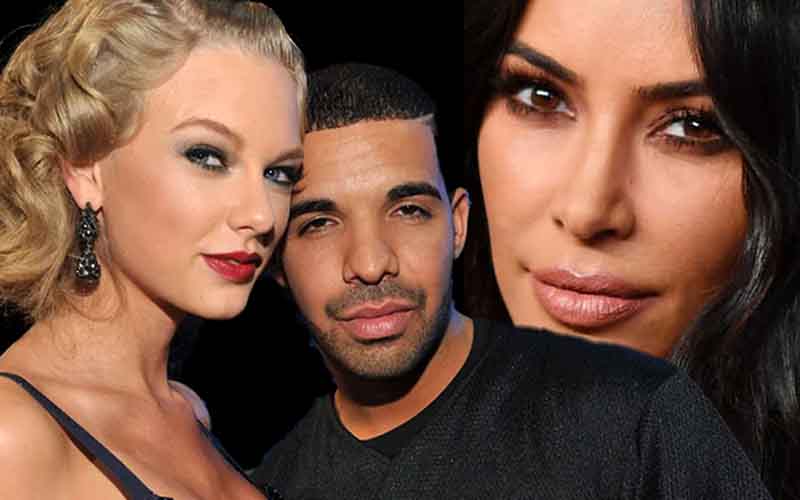 Drake has dropped a new single, "Search & Rescue," that features a sample of Kim Kardashian talking about her divorce from Kanye West. Drake posted an image to announce his latest single on Instagram of himself and a woman that looks a lot like Kim K sporting motorcycle helmets.
It turns out that the Kardashian lookalike is a model and singer by the name of Lilah. Could this be the latest troll from Drake toward Kanye in their feud that dates back to 2021?
Entertainment prop bets have been created asking if Kim and Drake will become an item before the end of 2023, but the odds are not favorable for a pre-New Year's Eve hookup.
Kim Kardashian and Drake in a Relationship in 2023
*BetOnline
There are also odds on the boards at legal online entertainment sportsbooks that ask who will be the next boyfriend of Taylor Swift. There is a large field of potential suitors in the following Taylor Swift prop that includes comedians, actors, musicians, athletes, billionaires, and politicians.
Sure enough, Drake is included in the following odds and is tied for third place overall.
Odds For Taylor Swift's Next Boyfriend

Pete Davidson+800
Pedro Pascal+1200
Drake+1500
Jake Gyllenhaal+1500
John Mayer+1500
Luka Doncic (DAL)+1500
Scott Eastwood+1500
Bradley Cooper+2000
Conor Kennedy+2000
Devin Booker (PHX)+2000
Jack Dorsey+2000
Michael B. Jordan+2000
Milo Ventimiglia+2000
Alexander Skarsgard+2500
Harry Styles+2500
Prince Sébastien Of Luxembourg+2500
Theo James+2500
Tom Brady+2500
Trevor Noah+2500
Brad Pitt+3000
Dylan O'Brien+3000

John Boyega+3000
Liam Hemsworth+3000
Paul Mescal+3000
Sam Heughan+3000
Shawn Mendes+3000
Andrew Garfield+4000
Ansel Elgort+4000
Austin Butler+4000
Justin Theroux+4000
Leonardo DiCaprio+4000
Lewis Capaldi+4000
Prince Wenzeslaus Of Liechtenstein+4000
Timothée Chalamet+4000
Elon Musk+5000
Jack Schlossberg+5000
Shohei Ohtani (LAA)+5000
Tom Sandoval+5000
Nick Cannon+10000
Rob Kardashian+10000
Sklumper+15000
*Bovada.LV
Drake's inclusion near the top of the odds is peculiar, considering that he and Taylor Swift have an ongoing beef that dates back to November of 2022.
The entire situation stems from an Instagram post of an image of the current Billboard Top 100 that featured all Drake songs in the top 10 save for the top spot, which was held by Swift's "Anti-Hero." Drake placed emojis over the top track, and many have used that post as evidence that he "hates women."
Pete Davison, Kim Kardashian's ex, is currently leading the odds to become Swift's next boyfriend. Just behind Davison is Pedro Pascal, star of Disney's The Mandalorian and Netflix's The Last of Us.
Actor Jake Gyllenhaal used to date Swift back in 2010, and he's tied with Drake with both bolding +1500 odds to win. Swift also used to date singer John Mayer, who is tied for third place.
If you want to take part in celebrity romance betting, take notice of the timelines involved, as that is how long it can take to get paid. The Kim K odds will payout no later than December 31st, but the Taylor Swift betting line will not conclude until she publicly begins dating someone.
Sources – Yahoo! News, TMZ, Newsweek
Entertainment Betting Odds Provided By Bovada And BetOnline