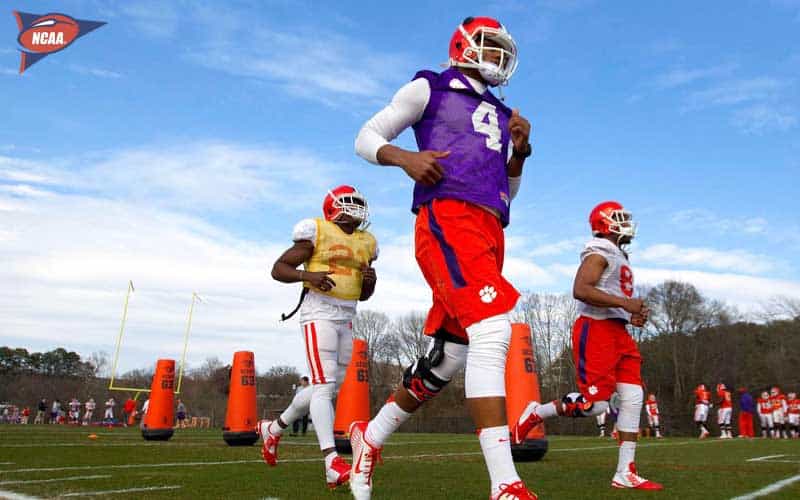 The 2019-20 college football season officially begins this weekend with the Camping World Kickoff between the Florida Gators and Miami Hurricanes in Orlando, but before the first game kicks off, the Associated Press released their first AP Poll of the season on Monday, listing the Top 25 teams in NCAA Division I FBS.
Defending champs Clemson tops the preseason poll for the first time in school history while Alabama sits in the second spot. The rest of the list is full of the NCAA's usual suspects:
Clemson
Alabama
Georgia
Oklahoma
Ohio State
LSU
Michigan
Florida
Notre Dame
Texas
Oregon
Texas A&M
Washington
Utah
Penn State
Auburn
UCF
Michigan State
Wisconsin
Iowa
Iowa State
Syracuse
Washington State
Nebraska
Stanford
Although the Top 25 polls can give a decent indication of the season's best teams, betting odds are another good identifier.
For the most part, the two actually line up at the beginning of each list. The odds, via MyBookie, give #1 Clemson the best shot at winning the 2020 College Football National Championship at +180 odds. The second-ranked Alabama has the next best chances at +220 odds, giving the two highest-ranked teams the best shot at the title.
Ranked third in the AP Poll, the Georgia Bulldogs have the third-best odds to win the championship at +750. After the first three teams, there's a slight shakeup.
Although the AP Poll ranks the Oklahoma Sooners fourth overall, their odds are fifth-best at +1300. Ohio State (+900) ranks better than the Sooners in odds, despite the AP Poll giving the Buckeyes the #5 spot.
Other teams, like the University of Miami, are not listed in the AP Top 25 but have better chances to finish the season on top than teams that are ranked this preseason.
The Hurricanes have +12500 odds to win the title. While those odds aren't spectacular by any means, it's better than #17 UCF (+15000), #18 Michigan State (+15000), #21 Iowa State (+25000), #22 Syracuse (+15000), and #25 Stanford (+22500).
Every college football betting season is littered with upsets and surprise teams, so both lists are going to change a lot throughout the 2019-20 season. For MyBookie's full list of championship odds, a list can be found below.
2020 College Football Playoff National Championship
Clemson +180
Alabama +220
Georgia +750
Ohio State +900
Oklahoma +1300
Michigan +1300
LSU +2600
Texas +2800
Florida +3500
Auburn +4000
Notre Dame +4200
Oregon +4500
Washington +5000
Texas A&M +5500
Nebraska +6000
Utah +6300
Penn State +9000
West Virginia +10000
NC State +10000
Miami (FL) +12500
Florida State +12500
Iowa +12500
Virginia Tech +12500
Washington State +12500
TCU +12500
Tennessee +12500
Utah State +12500
Mississippi State +13000
Wisconsin +14000
Michigan State +15000
Mississippi +15000
Baylor +15000
Boston College +15000
Syracuse +15000
UCLA +15000
South Carolina +15000
Northwestern +15000
Virginia +15000
Memphis +15000
UCF +15000
Boise State +15000
USC +17500
Oklahoma State +20000
Purdue +20000
Temple +20000
Wake Forest +20000
California +20000
Texas Tech +20000
Kentucky +20000
Pittsburgh +20000
North Carolina +20000
Stanford +22500
Missouri +22500
Iowa State +25000
South Florida +25000
BYU +25000
Maryland +25000
SMU +25000
Louisville +25000
Arizona State +30000