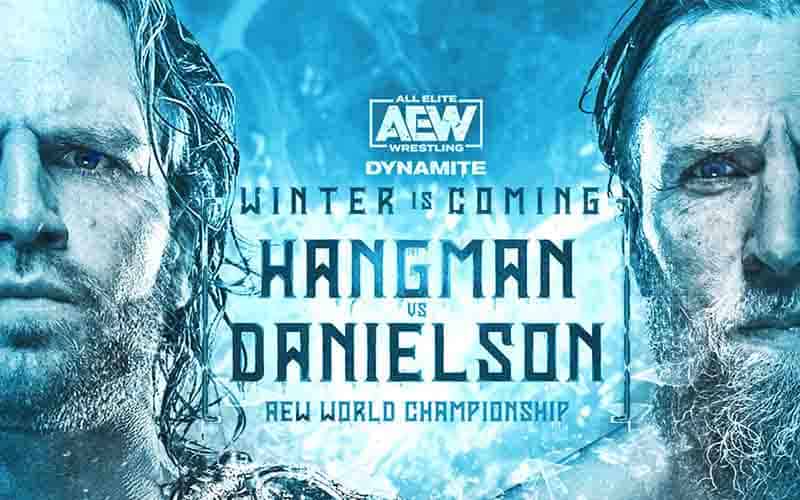 AEW Dynamite "Winter Is Coming" Airs Tonight On TNT At 8 PM
Adam Page Is Favored To Retain AEW Title Against Bryan Danielson
MJF Odds Suggest 3rd Consecutive Dynamite Diamond Ring Win
All-Elite Wrestling (AEW) will host their "Winter Is Coming" special on tonight's edition of Dynamite on TNT with a main event that matches up champion "Hangman" Adam Page vs. "The American Dragon" Bryan Danielson.
AEW World Championship – Winter is Coming
"Hangman" Adam Page (AEW Heavyweight Champion) -400
Bryan Danielson +250
Odds for pro wrestling betting have been posted at BetOnline Sportsbook that heavily favor Page retaining his title, and it makes sense considering the short amount of time that has lapsed since he won the strap from Kenny Omega on November 13th at Full Gear.
Bettor beware, however, as it is hard to imagine a scenario where Danielson is pinned for a 3-count by Page. In fact, the above line only asks gamblers to wager on which wrestler will win the match and gives no indication of a title change.
That means Bryan Danielson can beat Adam Page via disqualification and secure a win for pro wrestling bettors without becoming the new AEW Champion. This is a scenario that could play out because hanging a legitimate loss on Danielson at this time makes little sense from a storyline perspective, but AEW bookers have blown it in the past.
Maxwell Jacob Friedman (MJF) is the biggest heel in the game this side of the WWE's Roman Reigns, and he is going for his third Dynamite Diamond Ring win in a row.
MJF is the only wrestler that has ever won the ring, and the following entertainment prop bet suggests a near-certain victory once again.
Dynamite Diamond Ring Final – Winter is Coming
MJF -600
Dante Martin +350
Don't sleep on Dante Martin. MJF is embroiled in what appears to be a lengthy feud with CM Punk, and that could play to Martin's advantage.
MJF's henchman Wardlow will likely be at ringside, so perhaps Punk will intervene and create an even playing field for Dante Martin. 3-to-1 net payouts can be earned by betting on Dante Martin to win the 3rd annual Dynamite Diamond Ring, but only if wagers are placed now while the moneyline is set at +350.
"If you build it, they will come."

Field of Dreams (1989)
The next pro-wrestling odds offered up at entertainment betting sites is evidence that a match merely needs to be announced in advance in order for lines to be created.
This women's match that pits Hikaru Shida against Serena Deeb will feature some of the top female talent that the AEW has to offer, but normally would not command much attention at the betting window.
Shida vs. Deeb
Hikaru Shida -500
Serena Deeb +300
This speaks to the burgeoning popularity of betting on AEW, WWE, and other pro wrestling promotions. Online gamblers are hungry for more opportunities to bet on pro wrestling and entertainment sportsbooks need only the smallest of prompts to generate odds.
WWE recently inspired similar action at online sportsbooks when they themed their weekly NXT program with the Halloween Havoc tag and announced the card beforehand.
Although these AEW betting lines for Winter Is Coming won't necessarily expire once the opening bell rings for each match, BetOnline can remove them at will so don't wait too long to lay some action on Page, Danielson, or any other fight on the card.