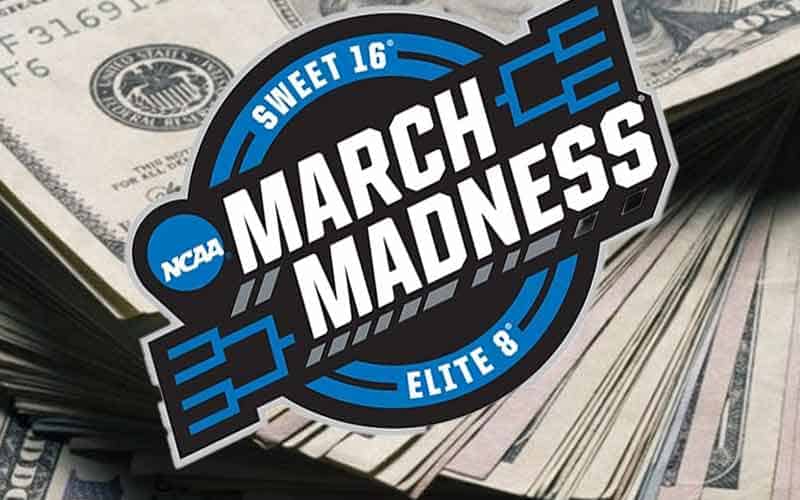 This weekend, the 2021 March Madness Tournament continues with the Round of 16. There are four games scheduled for Saturday as well as Sunday, and online Sweet 16 sportsbooks have provided NCAAB betting odds for each contest.
Saturday
#12 Oregon State (+6.5, +235) vs. #8 Loyola Chicago (-6.5, -280), O/U 125.5
#5 Villanova (+7.5. +270)  vs. #1 Baylor (-7.5, -325), O/U 141.5
#15 Oral Roberts (+11, +495) vs. #3 Arkansas (-11, -635), O/U 139.0
#11 Syracuse (+6.5, +230) vs. #2 Houston (-6.5, -275), O/U 140.0
Sunday
#5 Creighton (+13, +660) vs. #1 Gonzaga (-13, -1000), O/U 158.5
#4 Florida State (+2.5, +115) vs. #1 Michigan (-2.5, -135), O/U 143.5
#11 UCLA (+6.5, +230) vs. #2 Alabama (-6.5, -275), O/U 145.5
#7 Oregon (+1.5, +110) vs. #6 USC (-1,5, -130), O/U 138.0
The only team still alive from the once powerful Atlantic Coast Conference (ACC) are the Florida State University Seminoles who are clamping down opposing scorers with their suffocating defensive efforts.
While this is FSU's third consecutive tournament where they've reached the Sweet 16, the above game line from BetOnline NCAAB Sportsbook favors the Michigan Wolverines to defeat the Seminoles by over two points.
The below college basketball prop bet also spells doom for FSU, as the ACC is ranked seventh overall in the betting odds for which conference will win the NCAA Men's Division I Tournament.
Conference to win the 2021 NCAA Championship
West Coast +140
Big 12 +350
SEC +700
Pac 12 +800
Big Ten +850
American +900
ACC +1200
Big East +1200
Missouri Valley +1400
Summit League +5000
Speaking of proposition bets on March Madness, the following lines have been offered that illustrate what the Elite 8 bracket might look like following this weekend's games.
Total Seeded Upsets In Sweet 16
Under 2½ Total Seeded Upsets -150
Over 2½ Total Seeded Upsets +110
March Madness sportsbook sites are predicting that two or fewer lower-seeded teams will win their games this weekend, however, none of the lower seeds are favored to win their matchup. The closest two point-spreads on the board belong to #4 Florida State (+2.5) and #7 Oregon (+1.5), so bettors should closely examine the odds for both of these Sweet 16 underdogs.
Total Double-Digit Seeds That Will Advance To The Elite 8
Over ½ Double-Digit Seeds -240
Under ½ Double-Digit Seeds +165
The above prop bet favors an outcome that suggests at least one team that is seeded 10 or higher will advance this weekend, and Elite 8 sportsbooks are granting Syracuse and UCLA the highest likelihood of winning their game with a +230 money line.
Four of the remaining 16 teams are seeded in the double digits (#15 Oral Roberts, #12 Oregon State, #11 Syracuse, and #11 UCLA), and if bettors can successfully predict which of these high seeds will advance, they can more than double the amount wagered.
Player Highest Point Total in Sweet 16
Over 30½ Point Total -120
Under 30½ Point Total -120
Team Highest Point Total in Sweet 16
Over 93½ Point Total -120
Under 93½ Point Total -120
Although the top-seeded Gonzaga Bulldogs have been scoring at will over the course of the 2021 Men's Division I Basketball Tournament, no teams are expected to score north of 94 points during the Sweet 16.
The cap on individual player performance over this weekend has a line of 30.5 points, and bettors can decide whether they think someone will score 31 or more.
The -120 odds placed on each outcome indicate two things. The first is that both options are equally favorable and will require more risk than reward.
The second indication is that this entire betting line has been posted to attract action, and the money line odds reveal that the line has yet to move. As wagers are placed on either side of the line, the odds will shift.
The same can be said for every March Madness betting line posted on this page, so lay some action now while the money lines are still payout out huge.
Source: CBS Sports