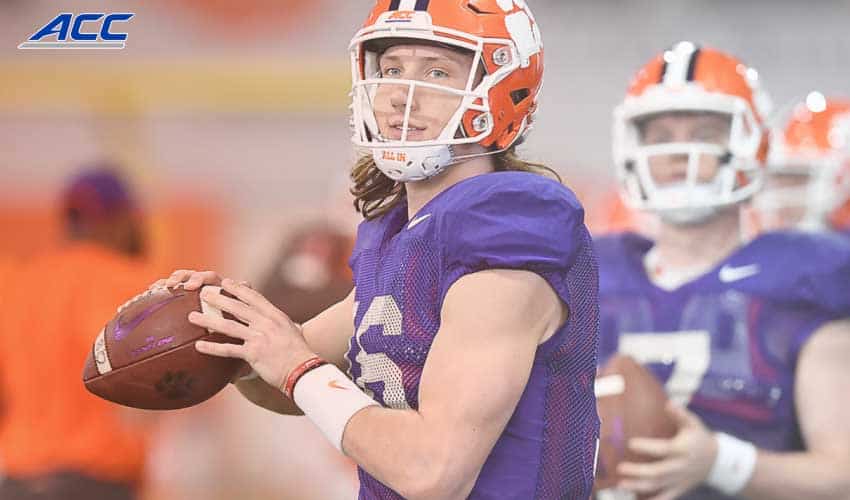 It's no surprise that the team with the best odds to win the 2020 CFP National Championship is also picked to come out on top of their conference.
The Clemson Tigers have +180 odds to repeat as national champions, but their odds are much more favorable in the Atlantic Coast Conference. The Tigers are heavy favorites at -350 odds to get a fifth straight ACC title. The next closest team, The University of Miami, only has +850 odds to win the conference.
Clemson is returning seven starters from an offense that scored 44 points per game last season. Quarterback Trevor Lawrence is one of those seven returning starters. In his true freshman season, Lawrence threw for 30 touchdowns and 3,280 yards.
The team's recent success hasn't got to head coach Dabo Sweeney's head, though. "Well, it's kind of just business as usual. We've had eight 10-plus win seasons in a row," Sweeney told The State. "People want to talk about streaks. This team ain't won one. They ain't won a game. Haven't played a game, haven't won a game. There is no carryover."
The Miami Hurricanes (+850) look to dethrone Clemson's recent ACC dominance despite their uncertainty at quarterback and new head coach Manny Diaz taking over the team. Diaz was the team's defensive coordinator from 2016-18 before former head coach Mark Richt abruptly stepped down.
When Miami first left the Big East Conference to join the ACC in 2004, many thought their dominance would carry over, even calling the ACC the "All 'Canes Conference." However, the team has not repeated its run and has yet to win a conference title.
If one of the quarterbacks — N'Kosi Perry, Tate Martell, or Jarren Williams — can separate themselves from the pack, the team could be in a good position for 2019 based on the NCAAF odds.
Overall, Diaz is hopeful for his first season leading Miami: "I love the energy and the competitiveness that our team has shown. That's really been our major point of emphasis this entire offseason."
While Clemson has the most ACC championships since the College Football Playoff's inception in 2014 with 4 titles from 2015-18, Florida State has one of their own in the CFP's inaugural year.
The Seminoles enter 2019 with +1400 odds to win the ACC despite a rocky first year under Willie Taggart in 2018. FSU went 5-7 last season, the first time finishing under .500 in four decades.
Taggart is expecting a better 2019 season from his team. "Talent is not the issue. Our guys buying into what we're doing and believing in each other. Coaches believe in the players. Players believe in the coaches."
Syracuse was the only team other than Clemson to post a 10-win season in 2018. They have the fourth-best odds coming into 2019 with +1600 chances of winning the ACC. NC State also did well last season finishing 9-4. In 2019, the Wolfpack has +2000 odds, tied with Virginia Tech.
The bottom-three teams – Duke, Louisville, and Wake Forest – all enter the season with +10000 odds to be ACC champions. Although Duke and Wake Forest were both above-.500 last year, 8-5 and 7-6, respectively, they both finished at the bottom of the conference. Similar outcomes are expected in 2019.
The college football season begins August 24 when Miami and the Florida Gators reignite their rivalry at 7 pm ET on ESPN for the 2019 Camping World Kickoff in Orlando.
A full list of ACC championship odds are below.
2019 ACC Championship Odds
Clemson

-350

Miami (FL)

+850

Florida State

+1400

Syracuse

+1600

North Carolina State

+2000

Virginia Tech

+2000

Virginia

+2500

Boston College

+3300

Georgia Tech

+3300

Pittsburgh

+4000

North Carolina

+6600

Duke

+10000

Louisville

+10000

Wake Forest

+10000