Is DFS Gambling?
In 2007, Fantasy Sports Live launched its website, becoming the first major daily fantasy sports company in the United States and effectively beginning the DFS era.
Today, the two biggest DFS providers, the New York-based Fan Duel and the Boston-based DraftKings, together control roughly 95% of the DFS market in the United States with over 14 million users combined while having an estimated value of over $1 billion each.
When DFS skyrocketed in popularity around 2013, individual state lawmakers began to take notice and asked the question: "Is daily fantasy sports gambling?"
This was an important question because at the time PASPA prohibited states from crafting legislation to allow sports betting, but the federal law has since been repealed by the Supreme Court as of May 2018 and today, states are now allowed to determine whether to allow sports betting.
However, at the time of its rise in popularity, the most important legislation regarding DFS was UIEGA, which was signed into law in 2006. The federal law prohibited the transfer of funds for gambling but contained specific language in the act and defined fantasy sports to not be considered as a form of an unlawful wager – making it exempt from the law.
But is DFS a form of gambling? To answer this, it's important to know what exactly qualifies as "daily fantasy sports."
What is Daily Fantasy Sports?
Daily fantasy sports or "DFS" is derived from the original "fantasy sports" where participants build an imaginary team to compete against other participants over the course of any given sports season.
Each day, week, or pre-determined amount time, real-life athletes are attributed points based on their statistical performance in real games, which is then totaled to determine a winner between participants who have full managerial control over the two imaginary teams.
In traditional fantasy sports, participants draft players at the start of the season and can trade players or add free agents over the course of the season just like real sports teams.
As an example, a participant in a fantasy football league would, along with the other league participants, have an initial draft to select players to fill out a fantasy football team roster before the start of the NFL regular season. The league participants can then trade players or pick up free agents to form a roster to compete against the other fantasy football team "owners" in the league.
DFS Rosters
Rosters can vary based on a commissioner's league settings, but this is a standard lineup for most fantasy football leagues:
Quarterback
Running Back
Running Back
Wide Receiver
Wide Receiver
Tight End
Flex Player (RB, WR, TE)
Defense/Special Teams (Team)
Kicker
Bench Player
Bench Player
Bench Player
Bench Player
Bench Player
Bench Player
Bench Player
Depending on how the fantasy sports league is setup, a salary cap may also be instituted to further the experience of running an imaginary team identical to that of a real-life sports franchise where better players cost more to have on a team and vice versa.
Daily vs Traditional Fantasy Sports
Fantasy sports leagues can be played for free or have an entry fee. If the league has an entry fee that is agree upon by the participants, the money, along with salary cap money if applicable, is put into a pool where it is either divided up and weighted toward the top based on where a participants' team finishes in the end-of-season fantasy league standings or is given entirely to the league's champion at the end of the fantasy league season.
However, this is where traditional fantasy sports and daily fantasy sports comparisons branch out into two separate types of fantasy-style games.
With DFS, participants are not locked into a team at the start of the real-life and fantasy sports seasons, but instead are locked in on a daily or weekly basis and have the ability to reset and draft another team after only a day or week.
Using football as an example again, a DFS roster in a "classic"-style lobby, which borrows a similar format from traditional fantasy football, will look something like this:
Quarterback
Running Back
Running Back
Wide Receiver
Wide Receiver
Wide Receiver
Tight End
Flex Player
Defense/Special Teams (Team)
The most noticeable roster difference in DFS is bench players are no longer needed because a participant's team will reset each week, meaning injuries and bye weeks won't need to be considered as much except when valuing players for a specific game or week of games.
In traditional fantasy football, an individual NFL player is limited to only one team in a league unlike DFS which allows an individual NFL player to be drafted onto multiple teams in multiple entries.
DFS Draft
Before a DFS participant can draft a team, he or she must enter one of the many available "contest," which is a lobby housing a limited number of participants, ranging from hundreds to thousands of participants depending on which contest was selected.
The DFS participant will then be able to draft-eligible NFL players from a single game or single week of the NFL season. Here is an example of both:
Single Game Contest - Draft a team of NFL players only from the two teams playing in a single game such as Thursday Night Football, Monday Night Football, Super Bowl, etc.
Weekly Contest - Draft a team of NFL players from all teams competing in all games from a specific given week during the NFL regular season, playoffs, etc.
DFS Season Goals
The goal is to draft a fantasy roster of NFL players the DFS participant believes will score the most points possible during a game or week in order to be eligible to win a portion of the prize pool.
To be eligible for the prize pool and submit a drafted fantasy team into a contest, the participant must pay an entry fee, which varies based on the contest chosen. The entry fee can range from a couple bucks to thousands of dollars with the amount of the entry fee and number of overall entries determining the size of the prize pool. DFS providers do offer free contest with cash winnings and other prizes as well.
With daily fantasy sports explained and how it is structured in its traditional format, now the focus turns to what makes DFS controversial from a legal viewpoint.
Is DFS a form of gambling?
Gambling is defined as the act of playing a game by risking money or property on an uncertain outcome of an event with the intent of winning money or property.
The Unlawful Internet Gambling Enforcement Act (UIGEA) was signed into law in 2006 and prevented the use of online payments, such as credit card transactions, for online gambling in attempt to curb the rise of gambling on the Internet – particularly at poker websites.
UIGEA decimated chunks of the online gambling industry, but the act specifically provides an exception for fantasy sports, declaring it a skill-based game with results "determined predominantly by accumulated statistical results of sporting events, including any non-participant's individual performances in such sporting events" to not be considered as an unlawful wager on sports.
Originally, this exemption for fantasy sports was likely because of the booming popularity of fantasy sports in the mid-2000's which saw offices and workplaces around the country begin to hold fantasy leagues with the number of fantasy sports participants skyrocketing from 12.6 million in 2005 to 18 million in 2006.
This opened the door for the introduction of daily fantasy sports and allowed it to take a sizeable slice out of the market pie that today includes over 60 million fantasy sports participants in the U.S. and Canada alone.
In 2015, the legally of DFS was challenged by politicians from several states with many arguing that DFS is basically a prop bet on the uncertain nature of player performance put into a pool with other participants. These states also held that DFS does not require skill like traditional fantasy sports because the ability to manage a roster over the course of a given sports season does not apply like with traditional fantasy sports.
The notion of a prize pool is a position the state of Nevada took, ruling it a form of sports wagering where all DFS operators must have a sports pool license to operate in the state or cease operations. None of the major companies have chosen to apply or pay for the gambling license in Nevada.
To get a clear picture of why Nevada classifies DFS as gambling, here is an example of a classic-style daily fantasy football prize pool used by DraftKings from Week 7 of the 2018 NFL Season in a lobby titled "NFL $500K Slant."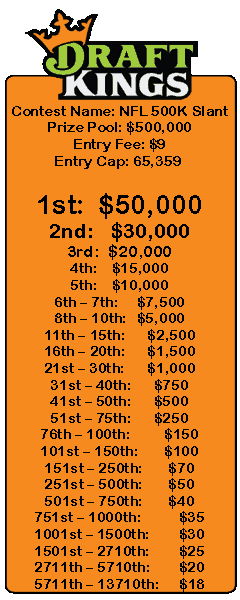 This prize pool uses the traditional fantasy football scoring system, is based on a salary cap, allows a maximum of 150 entries from any individual participant.
Depending on how many points a team from a DFS participant's entry gets will determine what place he or she finishes when the contest concludes, and the placement (1st, 2nd, 3rd, etc.) will determine how much is won.
However, in this specific contest, if an entry falls between 13711th and 65359th place then no money is won off the $9 entry fee.
By entering this contest and drafting a team, an entry theoretically has a 21% chance of winning a portion of the prize pool with money being awarded to 13,710 out of 65,359 participants.
At $9 per entry and 65,359 entries in total means in this prize pool, DraftKings will take in $588,231 if the number of entries reaches the entry cap. After DraftKings subtracts the $500,000 needed to award the prize pool winners, the company will profit $88,231 from this contest alone should the cap of 65,359 entries be reached.
It is important to note that most DFS contest have guaranteed prize pools (GPP) regardless of whether the entry cap in a contest is reached, which is the case with the above example. Some contests are not held if the entry cap is not reached, and in this scenario, participants are refunded the entirety of his or her entry fee.
This probably sounds equivalent to a raffle of sorts but churches and non-profit organizations hold those all the time, so why did some states ban or limit DFS operations?
What are the odds of winning in Daily Fantasy Sports events?
In sports betting, odds are set by a sportsbook and contain what is called vigorish or "juice," which is a number baked into the odds with the intention of guaranteeing the sportsbook a profit for holding the bet. Here is an example of odds on an NFL point spread:
Kansas City Chiefs (+3) (-110)
Los Angeles Rams (-3) (-110)
In the example, the second number in parenthesis indicates the odds and in turn, the payout for picking the winning team. (-110) are American odds and indicate a $110 wager will win $100, and if the odds were (+110) then a $100 wager will win $110.
If a person bets $110 on the Rams and another person bets $110 on the Chiefs, the sportsbook is guaranteed a profit because it:
Took in a total of $220 wagered
Will payout $210 ($110 bet + $100 won) to the winner
Will keep the $110 ($100 used to pay the winner) wagered by the loser
Make a net profit of $10
When it comes to DFS, companies like FanDuel and DraftKings do not use odds like traditional sports betting, however this does not mean odds are not used in their formula. This is not comparable to a raffle or lottery because all tickets in both have an equal chance of winning where drafting a roster in DFS does not.
DraftKings routinely posts the statistically odds of users winning to show transparency. At the time of write this piece the odds of DraftKings users winning a contest are:

Both the Past 7 Days and Past 30 Days results from all DFS sports contests held by DraftKings show the odds are weighted against a participant by a much larger margin than a traditional point spread at a sportsbook, where 52.4% of bets need to be won to break even at (-110) odds compared to 3% of users after 7 days and 8% after 30 days of playing in contests on average.
How does the salary cap work in DFS?
Perhaps the most important factor in DFS on whether it is gambling is the use of the salary cap because the salary of a player can be viewed like that of odds from a sportsbook. This is because value is assigned to a player's salary much like value is assigned to odds in a point spread or any betting line for that matter.
The amount of salary of an NFL player in a contest is determined by how likely they are to perform in his real-life NFL game. The higher the salary, the higher chance he'll likely perform well and vice versa. A player who has the highest salary should, in theory, gain the most amount of fantasy points for the contest.
For this example, let's use the "NFL $500K Slant" contest on DraftKings once again and detail the salary cap and highest paid players for each position needed to enter this week's contest.
As shown here, using the highest paid players in each position is not possible because this roster has exceeded the $50,000 cap by $17,900.
The salary cap and the salaries are made by an algorithm to create variation among entries. If every contest participant drafted the same roster with the theoretical best players, then every contest would likely end in a tie for 1st place.
And if all entries placed 1st, using the same "NFL $500k Slant" example from DraftKings, it would cause the company to pay out $50,000 to all 65,359 entries for a total of $3,267,950,000, which is why variation must occur or DraftKings would go bankrupt on a basic $9 entry fee contest.
It's impossible to go into further detail about how player performance odds are calculated, since DraftKings and all providers of daily fantasy sports keep algorithms secret, since if that information got out, then participants could see the ideal lineup to win a given contest.
However, this became grounds for a court case in 2015, which sparked legislative moves from states and led to ESPN discontinuing sponsored segments by DraftKings but agreed to still run advertisements.
The lawsuit came after the New York Times reported a DraftKings employee admitted to inadvertently releasing its algorithm before the start of week of NFL games and then winning $350,000 a FanDuel in the same week. This resulted in both DFS providers expressly prohibiting any employee from providing any company information to anyone outside the organization and not allowing any current or former employee to participate at any daily fantasy sports contests to further ensure credibility and the integrity of the service both provide.
The algorithm used by DFS companies is one of the primary arguments made by state lawmakers as to why DFS should be considered gambling even though the vast majority of states consider DFS to be a skill-based game where higher sports knowledge increases the chance of winning.
Which states allow DFS?
In total, 41 states and Washington D.C. allow DraftKings and FanDuel to accept residents, while 5 out of those 41 states currently only allowed DraftKings and FanDuel and have not granted permission to any other companies. All major DFS providers are not permitted to take customers from 9 states.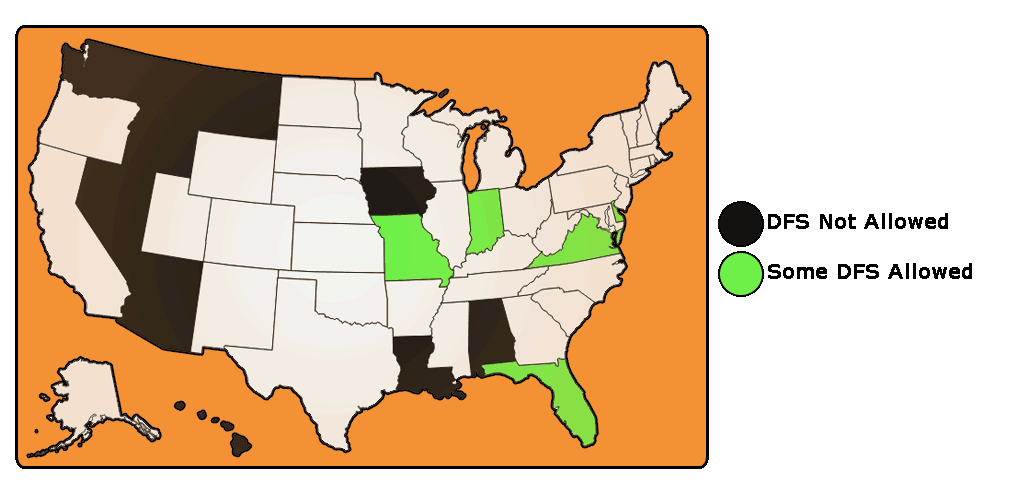 States where DFS are not allowed to accept customers: 9
Alabama
Arizona
Hawaii
Idaho
Iowa
Louisiana
Montana
Nevada
Washington
States where some DFS companies are allowed to accept customers: 5
Delaware
Florida
Indiana
Missouri
Virginia
Summary of Daily Fantasy Sports
Playing daily fantasy sports has become a mainstream and generally more accepted way to wager and attempt to win money on sports as opposed to tradition sports betting, but even that archaic view is rapidly shifting since the repeal of PASPA with more states becoming more open to legalizing sports betting to increase state tax revenue as time passes by.
Is DFS a form gambling in terms of the most basic definition?
Yes, it is gambling in a unique form created by the exclusion of fantasy sports in the wording of UIGEA federal law to its benefit and thus, being declared legal by a clear majority of states.
With that being said, DFS or even traditional sports betting as well should not be considered malicious or be accused of running gambling companies in a malevolent manner. Trusted and legally licensed sportsbooks and daily fantasy sports operators do not hide anything other than their probability formulas and algorithms used to determine odds and player salaries. Detesting either for these reasons would be like calling Coca-Cola a shady business just because they refuse disclose their secret recipe.
In fact, an argument could be made that both are among the most transparent businesses in the world today, since the numbers never lie and are displayed clear as day before placing a bet or paying an entrance fee.
Like sports betting, DFS is clearly gambling by definition and are both also games of skill requiring a person to be truly adept at understanding both the sport being wagered on and the value of numbers in order to beat the odds, which are weighted against the person placing a bet or paying an entry fee. Being skillful, like anything in life let alone DFS, doesn't always translate to wins.
But being more skilled and knowledgeable than the person next to you does.