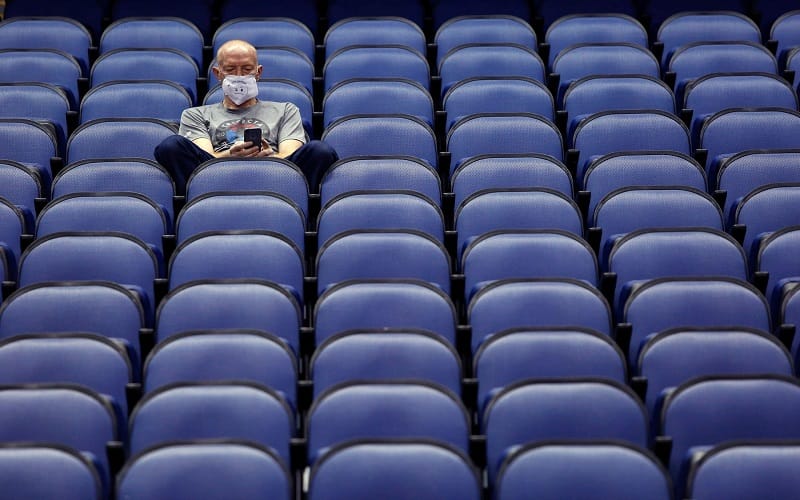 By now, every sports fan and bettor knows that the ongoing coronavirus pandemic has caused leagues around the world to hit the pause button on their seasons.
Sportsbooks immediately took a hit when March Madness was canceled by the NCAA and most major professional sports leagues, both in the United States and internationally, postponing play means no bets can be placed on their games.
Fortunately, even though all bets are off for matches, futures are still available, and oddsmakers have come up with tons of new things to wager on due to the lack of sports. We list all the unique lines in our guide for legal betting during coronavirus.
But both fans and bettors alike are attached to the sports they love, and natural human curiosity begs us to ask: "When are sports coming back?"
The truth is no one really knows.
A reasonable prediction would guess sports will likely return once the spread of COVID-19 is under control, and it's safe for everyone to leave quarantine and return to work.
Ultimately, the decision is probably out of the sports leagues' control since it's up to each country's government to do everything it can to flatten the curve of the spread rate from the viral disease.
As an example: The Chinese Basketball Association had planned to resume play on April 15 but delayed the restart of its season to at least May on Wednesday after not receiving approval from government officials.
Since the risk of spreading COVID-19 remains high, the odds of seeing sports come back soon are pretty low, to say the least—which means legal U.S. sports betting operators won't be fully up and running again for the foreseeable future.
If you are curious or think you can predict when each sports league will play again, Bovada Sportsbook is now accepting bets on when sports will return.
Most of the over/under prop bets are set during May or June, but the odds below clearly favor sporting events not coming back until after the date set by the oddsmakers.
Odds On Sports Coming Back
Sports League Props at Bovada
Will MLB Regular Season Start On Or Before July 3rd, 2020?
Will NBA Resume On Or Before July 3rd, 2020?
Will MLS Resume On Or Before May 10th, 2020?
Will The Masters Be Played On Or Before Sept 30th, 2020?
Will Italy Serie A Season Be Concluded In 2020?
Will English Premier League Resume On Or Before May 2nd, 2020
Will Spain La Liga Resume On Or Before May 2nd, 2020?
Will German Bundesliga Resume On Or Before May 2nd, 2020?
Will France Ligue 1 Resume On Or Before May 2nd, 2020?
Will Brasileiro Serie A Start On Or Before May 3rd, 2020?
Which EU Soccer League Will Play First?
German Bundesliga EVEN
England Premier League +250
France Ligue 1 +300
Spain La Liga +600
Italy Serie A +1200
Which Player Will Score First When League Soccer Returns?
Erling Braut Håland (Borussia Dortmund) +175
Neymar (PSG) +500
Philippe Coutinho (Bayern Munich) +500
Lionel Messi (Barcelona) +600
Mo Salah (Liverpool) +600
Karim Benzema (Real Madrid) +900
Edison Cavani (PSG) +1200
Cristiano Ronaldo (Juventus) +1600
Vinícius Júnior (Real Madrid) +2500