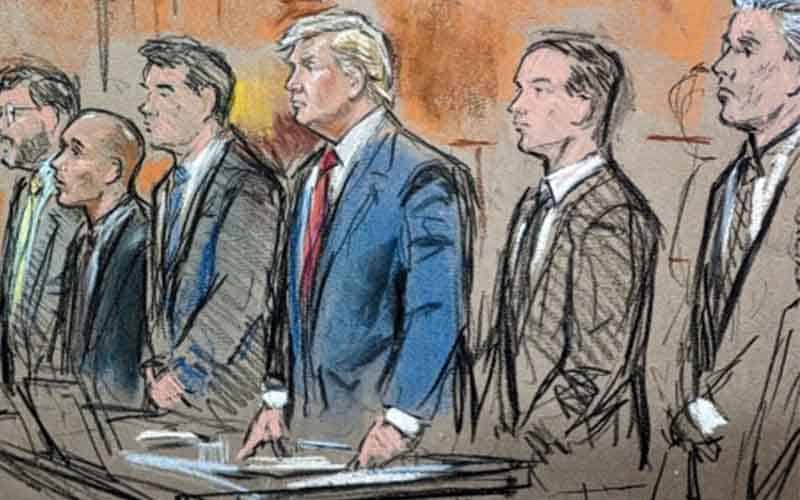 Yesterday, former President Donald Trump was arraigned in a Miami courtroom on charges that he illegally withheld and mishandled classified documents. Trump entered a plea of not guilty to all 37 charges levied against him.
This marks the first time a former President has been arraigned on federal charges. If Trump is convicted, it would result in his disqualification from running for public office and could possibly land him some jail time.
Any time Trump breathes, legal online political sportsbooks create new prop bets about it. Regarding his arraignment, the odds don't look good at the moment, as the following prop suggests that Trump will be found guilty of at least one of the 37 charges that he is currently facing.
Will Donald Trump Be Found Guilty Of One Or More Of The Classified Documents Federal Charges?
According to the above prop, Trump has a 2-in-3 chance of being found guilty. Will the conviction result in any jail time? Not likely, as the next two political prop bets will illustrate.
Will Trump Serve Jail Time Before 2025? (BetOnline/BetUS)
No -1500, -2000
Yes +600, +750
Will Trump Serve Jail Time Before 2026? (BetOnline/BetUS)
No -700, -1100
Yes +400, +575
The Trump odds do narrow considerably with the passage of time, as the likelihood of him serving jail time goes up each year. There is some opportunity to line shop for the best sportsbook payouts on the above odds, as there are two sites offering these props.
If you think Trump will keep himself from behind bars, BetOnline requires less risk for the same payout. For gamblers that plan on betting on Trump going to jail before 2025 or 2026, BetUS has the higher moneylines.
Although there was no mugshot taken of Trump during his arraignment, it seems like a missed opportunity for campaign marketing. If Trump does have a mugshot taken prior to election day in 2024, should he use it as a campaign photo? What would those odds look like?
Will Trump Use His Mugshot As A Campaign Image?
We've created the above Trump prop bet for fun, but we do believe that he would be unable to resist using the mugshot to portray himself as a victim. Another very real prop bet that's on the boards right now suggests that the opening statement of Trump's classified documents trial will not happen before July 2025.
Classified Documents Trial: Date Of Opening Statement
Not Before July 2025 -200
April To June 2024 +300
April To June 2025 +600
July To September 2024 +800
October To December 2023 +1200
January To March 2024 +1200
January To March 2025 +1200
October To December 2024 +3000
Before October 2023 +3000
If that happens, the United States has the potential to enter uncharted legal and political territory if Donald Trump is reelected in 2024. A sitting President has never faced federal charges in court.
If he is found guilty while President, will he pardon himself? Again, a prospective prop bet could look like the following:
Will Trump Pardon Himself If He Receives Jail Time?
We're uncertain as to whether it would stick, but we believe that President Trump would definitely try to flex his legal muscles as the Commander in Chief and attempt to avoid the big house.
If you plan on laying some action on any of the above prop bets for Trump's political and legal future, keep in mind the payout timelines involved because some of them will not finalize for several months.
Sources