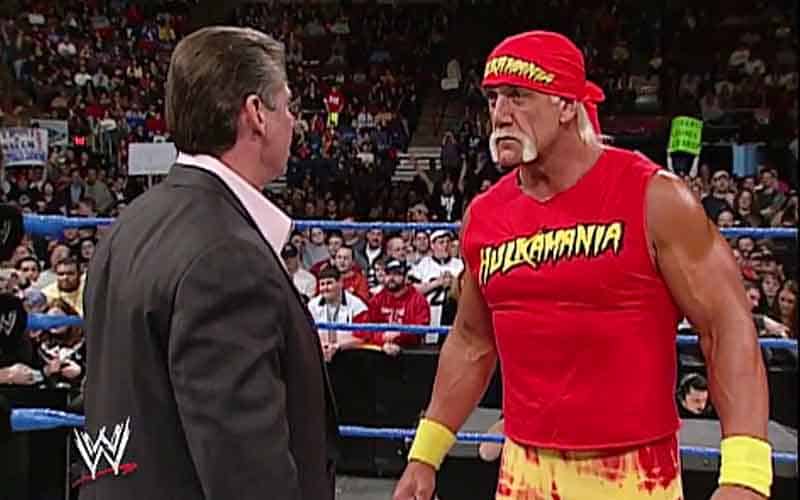 It's WrestleMania, brother!
Hulk Hogan has expressed an interest in fighting one last match before officially retiring and he'll fulfill everyone's fantasy by getting to whoop up his former boss.
During an interview with the Los Angeles Times, Hogan, the 66-year-old megastar born Terry Bollea, is eyeing WrestleMania 36 in his hometown of Tampa, Florida as his final match against WWE CEO Vince McMahon, barring any complications following his upcoming back surgery.
"I talked to Vince and I said I really don't know if I could live with myself knowing my last match was with [Total Nonstop Action Wrestling]," Hogan said. "If I can get fixed, I pray I can have one more match. I told Vince, 'When I get through this back surgery, I'm going to get in the best shape of my life and we're going to talk about me having one last retirement match.'"
Although the match needs a lot of scenarios to play out perfectly for it to actually happen, sportsbooks are beginning to take action on the winner's odds.
According to BetOnline, Hogan is heavily favored over McMahon with -300 odds. On the other hand, the WWE chairman has +200 chances of defeating Hogan in this entertainment betting scenario.
WrestleMania 36: Hogan vs. McMahon winner odds
Hulk Hogan -300
Vince McMahon +200
Hogan's last match was under the TNA banner in January 2012. The match also featured other high-profile wrestlers, including Sting and Kurt Angle. The last time that Hogan fought for WWE, however, was during SummerSlam in 2007.
Hogan and McMahon were instrumental in the increased popularity of wrestling during the 1980s and 1990s, but the two have had a unique working relationship with one another inside and outside the ring.
During 2003's WrestleMania XIX, Hogan defeated McMahon in a street fight, but the bad blood reaches much further. Hogan has left McMahon's WWF/WWE professional wrestling company multiple times over the last three decades.
But for two of the biggest names in the sport, the animosity lends itself more to respect these days.
"I'd love for it to be against Vince. I had such a great time with him in the ring at WrestleMania XIX. I had no idea what to expect from him, but he's a great bad guy. His timing is great. I loved wrestling him," Hogan said of his former boss.