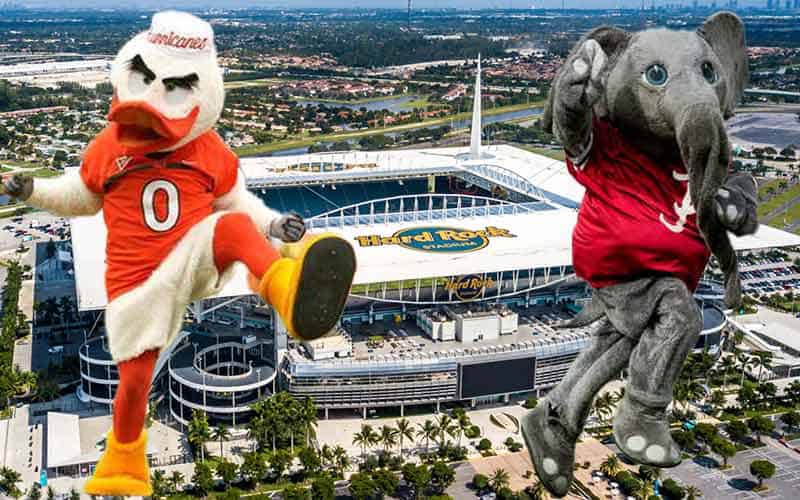 Love him or hate him, it is difficult not to admire the accomplishments and drive of Alabama head coach Nick Saban. His Crimson Tide are among the final four CFP teams most years and they have won so many National Championships that it has become the norm.
Once again, Alabama's odds to win a title in January of 2022 at Lucas Oil Stadium grant them the top moneyline at sportsbooks that offer legal College Football betting. Earning a championship isn't done overnight – it takes a season's worth of work.
That work begins this weekend as they'll face their first test on the road in the South Florida heat against the University of Miami Hurricanes in Hard Rock Stadium.
The sun will be sweltering this Saturday when the opening kickoff occurs at 3:30 PM, and although the Hurricanes are currently ranked 14th in the nation, they are predicted to lose by nearly three touchdowns to the visiting Crimson Tide.
Alabama (#1) vs. Miami (#14)
Point Spread: Alabama -19.5, Miami +19.5
Moneyline: Alabama -1200, Miami +700
Over/Under: 61.0
Alabama possesses so much top-end talent that they simply re-load when their players depart for the NFL Draft. That said, the Tide are potentially more vulnerable than at any other time of the season. They'll have new starters at most offensive skill positions, and that's inexperience that Miami can take advantage of.
We're not suggesting that the Hurricanes will win the game outright, but we do believe that the contest will be closer than the 19.5 point spread suggests.
For gamblers that are interested in betting on the College Football Playoffs and the eventual champion, Alabama is usually a safe wager, with current NCAAF moneylines ranging between +260 and +225.
The odds for Alabama dip into the negative when assessing their chances at winning the Southeastern Conference (SEC), where a title has always represented a trip to the CFP Tournament.
Miami's College Football futures odds for the National Title places them within contention, but two Atlantic Coast Conference teams are rated ahead of them in Clemson and North Carolina.
Dating back to the early 1980s, the University of Miami football program has one of the most impressive resumes in the NCAA, but they've yet to win the ACC or qualify for the CFP.
The state of Florida produces some of the best high school football players in the country and Miami has always benefited from their locale. It is only a matter of time before the Hurricanes rise to greatness, and bettors that get on board early will certainly be rewarded handsomely.
We're not expecting a CFP berth this season, but oddsmakers are suggesting that either Miami or North Carolina will face Clemson in the ACC Championship Game.
An ACC title for the Hurricanes would undoubtedly place them into the College Football Playoffs, but first, they must beat Alabama at home to get on that path.
While our staff does expect Miami to eventually reestablish a dominant position in NCAAF, for this season, betting on College Football bowl games will have to suffice as we do not think they're CFP material just yet.
NCAAF Betting Odds – Bovada, MyBookie, BetOnline
Source: CBS Sports