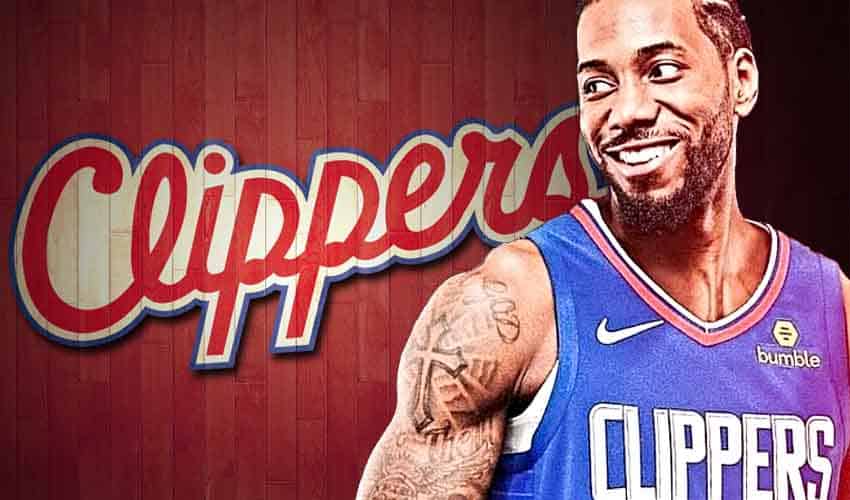 Los Angeles is the 2020 NBA Finals championship favorite. No, the other Los Angeles.
Following the signing of Kawhi Leonard and trading for Paul George, the Clippers (+270 per MyBookie) thrust themselves into title contention.
The Lakers have the second-best odds at +350 to win the Finals.
Prior to acquiring the Leonard-George tandem, the Clippers had championship odds of +1300 with the Lakers as +260 favorites.
In their 34 years of sharing Los Angeles, the Clippers and Lakers have never earned top-4 seeds in the same postseason, much less faced each other in a playoff's series.
Now, following a huge shift in NBA parity, the Western Conference is wide open and oddsmakers predict both Los Angeles teams to secure deep playoff runs.
But what does this really mean for the Clippers?
Leonard always had the Clippers on his list of possible landing spots, along with the Raptors and Lakers.
Despite the speculation that he would join LeBron James and Anthony Davis on the Lakers or that he would stay with his 2019 championship team in Toronto, it still was not a huge surprise that Leonard chose the Clippers.
The George acquisition, however, was a huge surprise. The trade request from George's agent, Aaron Mintz, even blindsided Oklahoma City Thunder GM Sam Presti.
Adding Leonard and George bolsters a team that already had a playoff-bound lineup.
During the 2018-2019 NBA season, the Clippers were able to make the playoffs as the eighth seed. They even won two games against the heavily favored Warriors before eventual elimination.
Coming into the 2019-2020 NBA season, the starting lineup for the Clippers is projected to be Patrick Beverley, Landry Shamet, George, Leonard, and Ivica Zubac.
The saying, "defense wins championships," might be the key for the Clippers. Beverley, George, and Leonard have all earned NBA All-Defensive team honors.
The Clippers also feature a strong bench. With perennial Sixth Man of the Year Lou Williams, Montrezl Harrell, and Maurice Harkless as a supporting cast, the Clippers are set to bolster a full 48-minute squad.
Another important piece to the Clipper puzzle is the coach. Since joining LA in the 2013-2014 season, Doc Rivers has led the team to six consecutive winning records.
Rivers has had a string of all-stars on his roster for most of his time in LA, including Chris Paul, Blake Griffin, and DeAndre Jordan. But Rivers has never had the level of wing defense and scoring capabilities that he has now in Leonard and George.
Rivers yells more than former Chicago Bulls coach Phil Jackson, but dare we say, with the talent and skill set of George and Leonard, that there's a second iteration of Michael Jordan and Scottie Pippen?
2020 NBA Finals Odds to Win @ MyBookie
Los Angeles Clippers +270
Los Angeles Lakers +350
Milwaukee Bucks +500
Philadelphia 76ers +850
Golden State Warriors +1000
Houston Rockets +1100
Utah Jazz +1500
Boston Celtics +1800
Brooklyn Nets +2000
Denver Nuggets +2000
Toronto Raptors +2500
Portland Trail Blazers +2800
Indiana Pacers +4000
Dallas Mavericks +4500
New Orleans Pelicans +5500
Miami Heat +6000
San Antonio Spurs +6600
Oklahoma City Thunder +7000
Atlanta Hawks +10000
Orlando Magic +12500
New York Knicks +15000
Sacramento Kings +15000
Detroit Pistons +20000
Memphis Grizzlies +20000
Minnesota Timberwolves +20000
Washington Wizards +20000
Chicago Bulls +25000
Charlotte Hornets +30000
Cleveland Cavaliers +30000
Phoenix Suns +30000