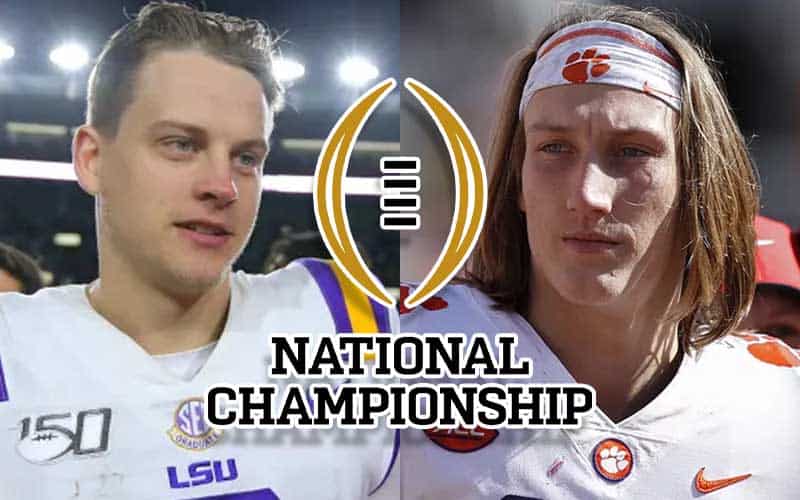 Don't get confused by the NCAA's unorthodox bowl game scheduling. The College Football Playoff semifinals are December 28, followed by 20 other bowl games before the Championship Game on January 13, 2020.
The first playoff game on tomorrow's slate is the #1 LSU Tigers and #4 Oklahoma Sooners in the Peach Bowl. Coverage begins at 4 pm ET from Atlanta's Mercedes-Benz Stadium.
Led by their Heisman-winning quarterback Joe Burrow, LSU is a 14-point favorite over the Sooners. What's even more telling than a two-touchdown spread is the money line. Based on the college football betting odds from BetOnline, LSU has an 81.29% chance of winning the semifinal matchup.
Oddsmakers also expect this game to be a shootout with the over of 76 points favored at -115 chances.
Oklahoma Sooners vs. LSU Tigers (-14)
Money line: OU +380, LSU -500
Total: O76 -115, U76 -105
The second semifinal game of the postseason is the Fiesta Bowl in Glendale, Arizona. The playoff's reigning champion #3 Clemson Tigers will take on the #2 Ohio State Buckeyes at 8 pm ET with the Tigers favored by just two points.
The line is closer in this game with Clemson having a slight edge at 54.03% and a total over/under set at 63 points.
Ohio State Buckeyes vs. Clemson Tigers (-2)
Money line: OSU +108, CLEM -128
Total: O63 -105, U63 -115
Overall, LSU is the CFP favorite at +125 odds. The other three teams follow with Clemson at +250, Ohio State at +275, and Oklahoma at +1000.
Odds to win the College Football Playoffs
LSU +125
Clemson +250
Ohio State +275
Oklahoma +1000
Oddsmakers also have the chances listed for the CFP championship game outcome. The most likely result (+250) is that LSU will defeat Clemson in an All-Tigers Showdown for the title.
Other possibilities include LSU defeating Ohio State (+300) and Ohio State defeating LSU (+375).
Outcome of NCAA Championship Game
LSU defeats Clemson +250
LSU defeats Ohio State +300
Ohio State defeats LSU +375
Clemson defeats Oklahoma +1600
Ohio State defeats Oklahoma +1600
Oklahoma defeats Clemson +2000
Oklahoma defeats Ohio State +2000
To cap off tomorrow's betting lines, BetOnline also has the odds for the possible matchups in January. Money lines and totals are not set yet, but the spreads are available.
If Clemson faces Oklahoma, the Tigers would be 13-point favorites. If Ohio State plays Oklahoma, the Buckeyes would be 11-point favorites. The other two possible matchups only have one-point spreads apiece.
Oklahoma Sooners vs. Clemson Tigers (-13)
Money line: TBA
Total: TBA
Clemson Tigers vs. LSU Tigers (-1)
Money line: TBA
Total: TBA
Ohio State Buckeyes vs. LSU Tigers (-1)
Money line: TBA
Total: TBA
Oklahoma Sooners vs. Ohio State Buckeyes (-11)
Money line: TBA
Total: TBA