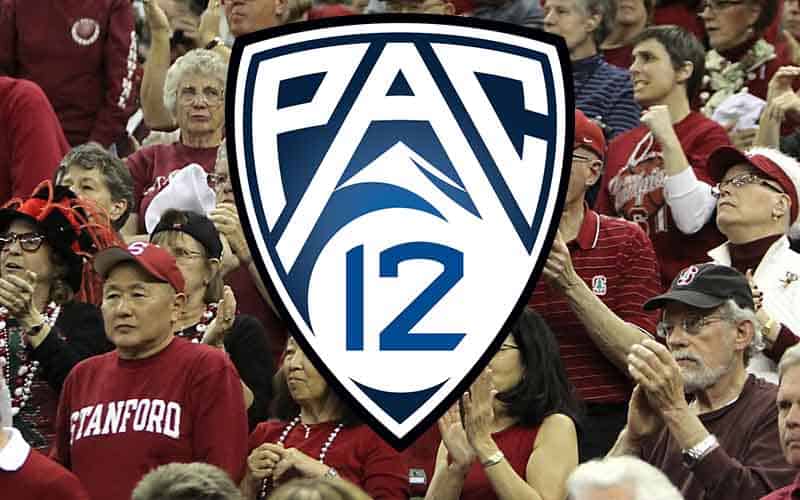 The realm of college football betting forever changed last week when the Pac-12 conference was gutted by the Big 12 and Big Ten. All but four current 2023 Pac-12 schools will play in a different conference in 2024.
That leaves the Cal-Berkely Golden Bears, Oregon State Beavers, Stanford Cardinal, and Washington State without a conference heading into next year.
Statement from the Pac-12 Conference: pic.twitter.com/XKwEqw9A3C

— Pac-12 Conference (@pac12) August 5, 2023
Here is a list of current Pac-12 schools and what conference they'll be a member of starting with the 2024 season.
Pac-12 Members And Future Conferences
Arizona Wildcats – Big Ten
Arizona State Sun Devils -Big 12
California Golden Bears – Pursuing the ACC, no conference tie for 2024
UCLA Bruins – Big Ten
Colorado Buffaloes – Big 12
Oregon Ducks – Big Ten
Oregon State Beavers – No current 2024 conference
USC Trojans – Big Ten
Stanford Cardinal – Pursuing the ACC, no conference tie for 2024
Utah Utes – Big 12
Washington Huskies – Big Ten
Washington State Cougars – No current 2024 conference
As noted above, Cal and Stanford, two San Francisco Bay-area schools, have reached out to the ACC regarding potential membership. While the institutions certainly make sense when stacked up against the likes of Duke and North Carolina, there are geographical constraints to consider.
Stanford and Cal are not normally in the mix for a CFP National Championship, but they do command significant ratings from the northern California market and could be worthwhile when it comes time for the ACC to negotiate a new television contract.
A lousy TV deal is what has caused the Pac-12 to disintegrate rapidly, breaking down a time-honored conference that's existed since 1915 in a matter of days.
Will The Power Five Become The Power Four?
Betting on the College Football Playoffs will change quite a bit following the 2024-25 season, as the field will expand from a four-team to a twelve-team CFP bracket.
The revised format will reserve the top four playoff seeds for the four top-ranked conference winners, with seeds eleven and twelve granted to the next two highest-ranked conference champions.
Before the recent conference realignment, a power five conference would have been automatically left out of the top four seeds every year. Now, it seems that the rich get richer as the top conferences are set up to dominate the CFP with an incredible advantage going forth.
Best Case Scenario For Remaining Pac-12 Teams
If Cal and Stanford are unable to reach a deal with the ACC, perhaps all four remaining Pac-12 teams could join the Mountain West Conference.
The Atlantic Coast Conference has been non-committal regarding any potential merger with the California-based schools, suggesting interest may be low at the moment.
This new sixteen-team alliance makes sense from a proximity perspective, but it may not include enough legitimate programs to be considered a Power Five.
Still, it could retain the Pac-12 name, which has been around in college athletics for over a century. Normally, moves like this would take months to sort out, but things are moving fast as of late, so another conference realignment announcement could come any day.
Sources