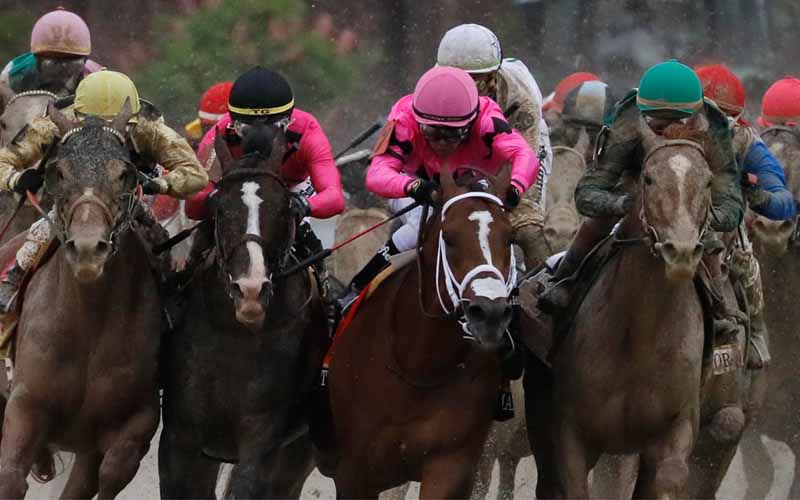 Despite not winning a race this year, Improbable was named the 2019 Preakness Stakes morning line favorite with 5-2 odds after drawing the No.4 post position earlier this week.
Following up the Preakness favorite Improbable is War of Will at 4-1, Anothertwistafate at 6-1, and Alwaysmining at 8-1 rounding out the most likely contenders.
However, after a controversial ending to the Kentucky Derby two weeks ago, the "official winner" from Churchill Downs, the 65-1 longshot Country House, was scratched from the race with a bad cough, marking the first time since 1996 that the Derby winner will not be at the Preakness.
But that's not the only horse from the missing from the field and skipping the Preakness.
Maximum Security — at 5-1 odds two weeks ago — is skipping the Preakness after being disqualified for "impeding" War of Will during the race. It was the first time since 1968 that the winning horse of the Derby had been disqualified.
The owners of Maximum Security filed a lawsuit in federal court on Wednesday to overturn their disqualification in the 145th Kentucky Derby.
And in case you haven't seen it yet, we'll let you decide:
Code of Honor (15-1) and Tacitus (10-1) will also not be at the Pimlico Race Course on Saturday, meaning the first four horses to cross the finish line at the Kentucky Derby two weeks ago will skip the second race in the Triple Crown.
The Preakness 5-2 favorite Improbable crossed the Kentucky Derby finish line in 5th place but was bumped up to 4th place finish after Maximum Security was disqualified.  
The 144th Preakness Stakes will be held on Saturday, May 18, at the Pimlico Race Course in Baltimore, MD, and the post time is currently set for approximately 6:48 p.m. ET. on NBC. Purse amount: $1.5 million.
Below you'll find a comparison of the Preakness morning line and the horse racing odds given by three top online sportsbooks following the announcement of the post positions for each horse and jockey.
You can bet on either the ML or the sportsbooks odds at any of the sports betting sites below. We've included this table so you can find the best value for the horse you want to bet on at the Preakness.
2019 Preakness Odds, Post Positions: Bovada, BetOnline, MyBookie
| | | | | | |
| --- | --- | --- | --- | --- | --- |
| Post | Horse | ML Odds | Bovada | BetOnline | MyBookie |
| 1 | War of Will | 4/1 | +375 | +400 | +330 |
| 2 | Bourbon War | 12/1 | +750 | +1000 | +850 |
| 3 | Warrior's Charge | 12/1 | +1200 | +1200 | +1400 |
| 4 | Improbable | 5/2 | +250 | +230 | +190 |
| 5 | Owendale | 10/1 | +1000 | +1000 | +1400 |
| 6 | Market King | 30/1 | +3300 | +3300 | +3300 |
| 7 | Alwaysmining | 8/1 | +600 | +700 | +700 |
| 8 | Signalman | 30/1 | +2000 | +1800 | +1800 |
| 9 | Bodexpress | 20/1 | +2000 | +2000 | +1800 |
| 10 | Everfast | 50/1 | +5000 | +5000 | +10000 |
| 11 | Laughing Fox | 20/1 | +2000 | +2500 | +2800 |
| 12 | Anothertwistafate | 6/1 | +700 | +750 | +900 |
| 13 | Win Win Win | 15/1 | +1200 | +1600 | +1500 |