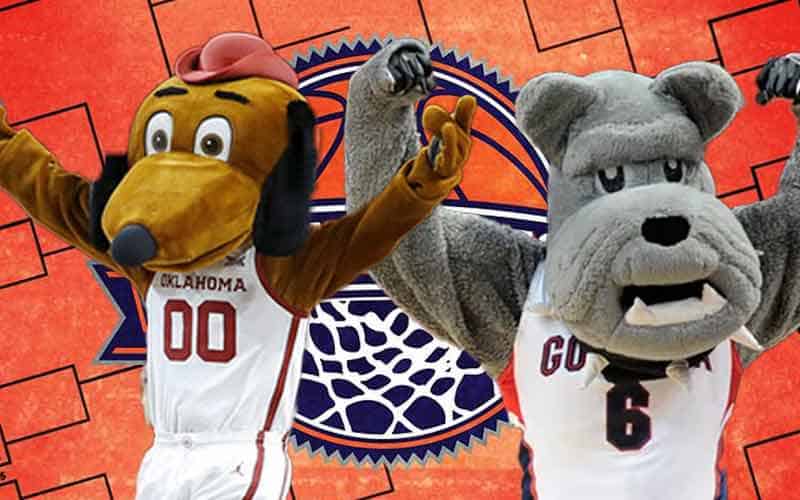 The second day of action in the round of 32 concludes this evening, setting the stage for the Sweet 16 odds to be produced at the world's greatest March Madness betting sites.
This afternoon features the #1 seeded Gonzaga Bulldogs against the Oklahoma Sooners, and oddsmakers do not believe that the contest will be a close one.
NCAA TOURNAMENT – Second Round – West Region
Oklahoma (#8) vs. Gonzaga (#1)
2:40 PM
Point Spread: Sooners +14.0, Bulldogs -14.0
Money Line: Sooners +725, Bulldogs -1300
Over/Under: 154.5
Final Score Prediction Based On March Madness Odds
Gonzaga Bulldogs – 84
Oklahoma Sooners – 70
The Sooners sported a pedestrian 16-10 record during the 2021 NCAA Men's Basketball season and finished in the middle of the pack in the Big 12 Conference.
While Gonzaga has been a top-rated college basketball program for over twenty years now, the remainder of the West Coast Conference has not risen to their level of play.
These teams populate the majority of Gonzaga's season schedule and forces them to include significant non-conference games in order to remain relevant on a national scale.
Any time Gonzaga steps outside of the West Coast Conference and plays a team from one of the major groupings like the Big 12, it is a significant step up in competition due to the caliber of athletes that are involved.
Sure, the Bulldogs are likely to move beyond the Sooners like Sweet 16 betting sites are suggesting, but is the point spread separation of 14 too large of a chasm for tonight's game?
Bettors that believe Oklahoma will keep it closer than 14 points can double their money by taking advantage of the above betting line at Bovada Sportsbook.
If Oklahoma can manage to outright win the game against Gonzaga, $1 bets on their +725 money line will payout at $7.25. These money line March Madness odds are so long because it is not a likely occurrence, so keep expectations on these types of wagers low, as well as the amount you risk.
Online sportsbooks offering odds on the Final Four are gearing up now that the round of 16 is almost set, but if you want to lay some action on who will make it to the March Madness semifinals, the best option is NCAAB Championship futures.
Now that the NCAA Tournament bracket has taken shape and some games have completed, oddsmakers can more accurately produce futures lines that reflect the seeding and paths to titles.
Odds To Win 2021 NCAA DI Men's Basketball Tournament Winner
Gonzaga (#1) +180
Baylor (#1) +350
Houston (#2) +800
Michigan (#1) +1000
Although the Houston Cougars do not have favorable odds to win March Madness, they do have a great chance of earning a slot in the Final Four and are also the only #2 seed to appear atop the futures.
When betting on futures of any type, the earlier the bettor places a wager, the more advantageous the odds will be. If the above March Madness championship futures appear enticing to you, it would be best to get in on them right now.
Even a wager on Gonzaga to win it all in 2021 will nearly double the amount bet on them ($1.80 for each $1 risked), but a win tonight will certainly shrink those odds.
Source: New York Post