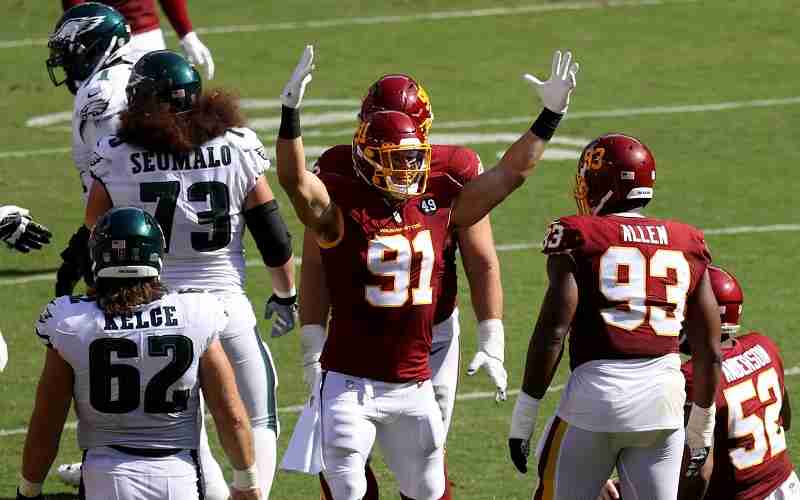 Last Friday we offered our three locks of the week for the NFL's opening Sunday slate of games. Now that Sunday's 13 games are in the books, let's look back and see how we fared.
Green Bay Packers 43, Minnesota Vikings 34
Spread: Vikings -2.5 – Packers Cover
Winner: Packers +115, Vikings -135 – Packers Win
Total: 44.5 – Over Hits
Our Pick:  Packers +115 – Success!
We knew something smelled rotten when the Vikings were favored to defeat the Packers. Green Bay is building off of a campaign that had them one game from the Super Bowl, whereas Minnesota's solid nucleus lost a core piece in WR Stephon Diggs during the offseason.
The Vikings are still trying to assume their desired team identity of a balanced offense and a hard-nosed defense, but they still find themselves about a letter grade behind the Packers across the board.
NFL betting sites typically add vigorish when wagering on a point spread, so we opted for a bet on the Packers' money line odds of +115 and cashed in when they handed Minnesota a 43-34 defeat.
Seattle Seahawks 38, Atlanta Falcons 25
Spread: Seahawks -2.5 – Seattle Covered
Winner: Seahawks -140, Falcons +120 – Seahawks Win
Total: 49.0 – Over Hits
Our Pick: Seattle -2.5 – Success!
Atlanta's roster still possesses loads of top-end talent and on any given weekend they can beat just about any team in the NFL, but not Seattle on the opening week of the season. Fair enough, oddsmakers set the line for NFL betting favoring the Seahawks to win by 3 points or more, and we figured they'd easily cover.
We were right, but the Falcons did try to make it interesting with a late rally. Seattle, behind the efforts of QB Russell Wilson and running back Chris Carson, looked to be in midseason form. Atlanta put forth an honorable effort behind Matt Ryan, Julio Jones, and newcomer Todd Gurley, but it wasn't enough to hang with Seattle who is firing on all cylinders offensively.
Philadelphia Eagles 17, Washington Football Team 27
Spread: Eagles -6.0 – Washington Covered
Winner: Eagles -250, Washington +210 – Washington Wins
Total: 42.5 – Over Hits
Our Pick: Eagles -6.0 – Failure
When we surveyed the starting offensive and defensive lineups for the Washington Football Team, we saw no avenues available for them to routinely put points on the scoreboard. We felt comfortable that Philly would win by at least 7, and likely a lot more.
The Eagles jumped out to a 17-0 lead and looked to be well on their way to a rout of Washington. Then, something happened. Washington went on to score 27 unanswered points while Philadelphia couldn't find a way to move the ball.
Although D.C. ruined our perfect Sunday, we've got to hand it to new head coach "Riverboat" Ron Rivera, defensive coordinator Jack Del Rio, and second-year quarterback Dwayne Haskins who displayed leadership and confidence yesterday.
Unfortunately, because the Eagles and Washington have proven to be so unpredictable, we will likely not be placing any wagers on either of them for several weeks.
Now that we've covered our Sunday predictions, let's have a look at the lines for tonight's two Monday Night Football games.
Monday Night Football odds provided by Bovada.
Pittsburgh Steelers @ New York Giants
Spread: Steelers -6.0
Winner: Steelers -250, Giants +210
Total: 45.0
Tennessee Titans @ Denver Broncos
Spread: Titans -3.0
Winner: Titans -160, Broncos +140
Total 41.0
Although these are two very intriguing matchups, there are too many variables involved with each team to generate confidence in any direction. We'll be taking notes on these two games in preparations for week two's betting lines.
For now, here are the betting results from the rest of Sunday's NFL games.
Chicago Bears 27, Detroit Lions 23
Spread: Lions -3.0 – Bears Cover
Winner: Bears +125, Lions -145 – Bears Win
Total: 42.0 – Over Hits
Cleveland Browns 6, Baltimore Ravens 38
Spread: Ravens -7.0 – Ravens Cover
Winner: Browns +265, Ravens -330 – Ravens Win
Total: 48.0 – Under Hits
Indianapolis Colts 20, Jacksonville Jaguars 27
Spread: Colts -8.0 – Jaguars Cover
Winner: Colts -400, Jaguars +300 – Jaguars Win
Total: 45.0 – Over Hits
Las Vegas Raiders 34, Carolina Panthers 30
Spread: Raiders -3.0 – Raiders Cover
Winner: Raiders -150, Panthers +130 – Raiders Win
Total: 47.5 – Over Hits
Miami Dolphins 11, New England Patriots 21
Spread: Patriots -6.5 – Patriots Cover
Winner: Dolphins +250, Patriots -300 – Patriots Win
Total: 42.0 – Under Hits
New York Jets 17, Buffalo Bills 27
Spread: Bills -6.5 – Bills Cover
Winner: Jets +250, Bills -300 – Bills Win
Total: 39.5 – Over Hits
Los Angeles Chargers 16, Cincinnati Bengals 13
Spread: Chargers -3.0 – Push
Winner: Chargers -170, Bengals +150 – Chargers Win
Total: 42.0 – Under Hits
Arizona Cardinals 24, San Francisco 49ers 20
Spread: 49ers -7.0 – Cardinals Cover
Winner: Cardinals +240, 49ers -290 – Cardinals Win
Total: 48.0 – Under Hits
Tampa Bay Buccaneers 23, New Orleans Saints 34
Spread: Saints -3.5 – Saints Cover
Winner: Buccaneers +3.5, Saints -170 – Saints Win
Total: 48.0 – Over Hits
Dallas Cowboys 17, Los Angeles Rams 20
Spread: Cowboys -3.0 – Rams Cover
Winner: Cowboys -145, Rams +125 – Rams Win
Total: 51.5 – Under Hits