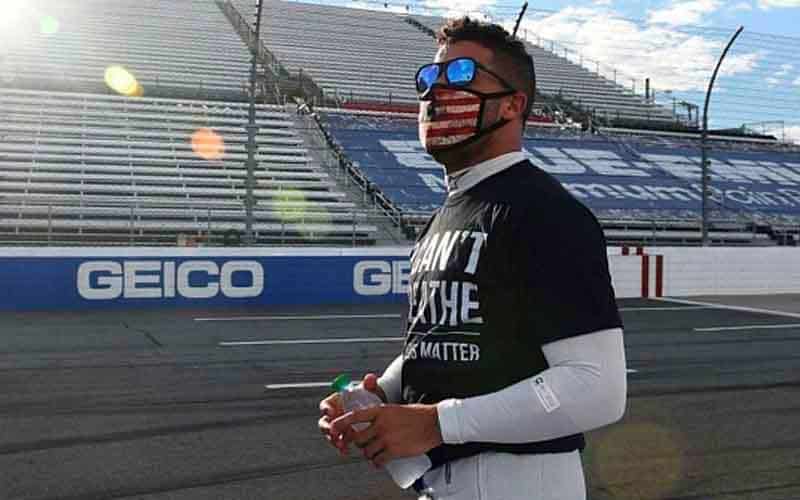 6/24/20 3:20 PM Update – A Federal investigation has revealed that the noose found in Bubba Wallace's garage was actually a garage door lift that had been there since 2019.
African American NASCAR driver Bubba Wallace was a vocal opponent of the use of the confederate flag in stock car racing. As a response, NASCAR stepped up and banned the use of the flag, a move that was applauded by many.
It seems that there are still some people out there that want to keep the outdated traditional alive, and have responded by leaving a noose in the garage of Wallace, as reported by ABC News.
NASCAR drivers have responded by starting a campaign in support of Bubba Wallace under the header of #ISTANDWITHBUBBA. A federal investigation has been launched in an effort to determine the perpetrator who left the noose in Wallace's garage.
Drivers at Talladega Speedway are allegedly planning to make a big statement at this today's Geico 500 race, according to Auto Racing journalist Dustin Albino's Twitter account.
Per source, NASCAR drivers are planning to support @BubbaWallace today by pushing the 43 to the front of the grid in unison. Everyone will then stand around the car for the national anthem.

— Dustin Albino (@DustinAlbino) June 22, 2020
We can't think of a better way to stand up in solidarity against the racists and hate mongers that have long plagued the fandom of NASCAR and other racing circuits.
Unfortunately, there are still some drivers that still insist on sporting the confederate flag, as was evidenced by Ray Ciccarelli, a competitor on NASCAR's Truck Circuit who opted to retire because of the promotion's decision.
It seems that there is still a long road ahead as the Star Tribune is reporting that confederate flags are flying en masse outside and above Talladega Motor Speedway in Alabama.
On to more pleasant topics, the NASCAR betting odds are in for the Geico 500, and currently, #22 Joey Logano is the favorite to cross the finish line first.
NASCAR provided by Bovada.
Geico 500 @ Talladega Superspeedway – Winner
Joey Logano #22 +550
Chase Elliott #9 +700
Kyle Busch #18 +900
Brad Keselowski #2 +950
Denny Hamlin #11 +1100
Kevin Harvick #4 +1200
Ryan Blaney #12 +1200
Aric Almirola #10 +1400
Martin Truex Jr. #19 +1600
Kurt Busch #1 +2000
Alex Bowman #88 +2500
Jimmie Johnson #48 +2500
Ricky Stenhouse, Jr. #47 +2500
Tyler Reddick #8 +2500
William Byron #24 +2800
Clint Bowyer #14 +3000
Austin Dillon #3 +3500
Darrell Wallace Jr. #43 +3500
Ryan Newman #6 +3500
Erik Jones #20 +4000
Matt DiBenedetto #21 +5000
Chris Buescher #17 +6000
Christopher Bell #95 +6000
Matt Kenseth #42 +6000
John H. Nemechek #38 +6600
Michael McDowell #34 +6600
Cole Custer #41 +8000
James Davison #77 +8000
Ryan Preece #37 +8000
Brendan Gaughan #62 +8500
Ty Dillon #13 +8500
Corey LaJoie #32 +10000
Brennan Poole #15 +15000
Daniel Suarez #96 +25000
Gray Gaulding #27 +35000
Joey Gase #51 +35000
Timmy Hill #66 +35000
BJ McLeod #78 +50000
JJ Yeley #53 +50000
Quin Houff #00 +50000
If the winner is too difficult to select, there are several prop bets for head-to-head matchups that place two drivers against each other and ask bettors to select who will finish first between them.
There are also betting lines that include the entire field that allow bettors to select a driver that they think will finish in the final three or the final five once the checkered flag has been waived.
The Geico 500 at Talladega has the potential to be a very charged atmosphere with people on both sides of the confederate flag issue. Hopefully, the race can occur without incident, and NASCAR fans will be compelled to unify against racism across the board.