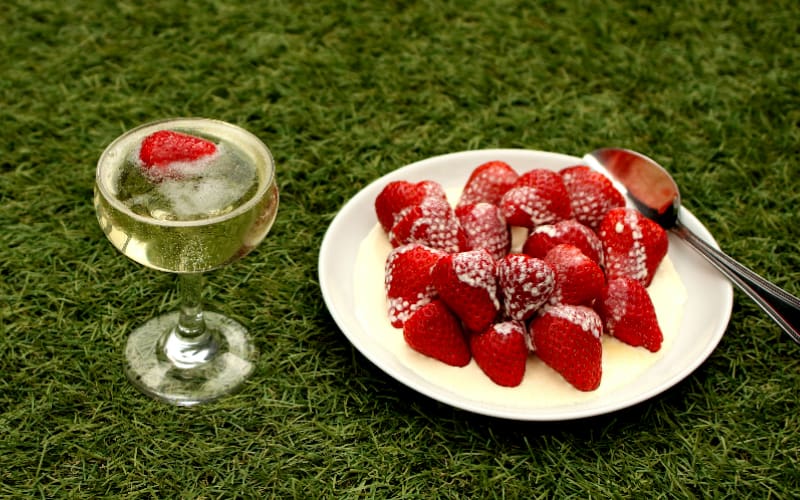 Break out the strawberries, cream, and the all-white outfits because it's time to bet on the finals for the oldest tennis tournament in the world.
Odds are now available for the 2019 Wimbledon finals with Novak Djokovic and Serena Williams opening as the favorites for the men's and women's singles championships, respectively. 
Williams (-200) will compete for her eighth Wimbledon title Saturday against Simona Halep (+160) after defeating Barbora Strycova in straight sets Thursday. Williams was almost flawless, only dropping three games in the match, finishing 6-1, 6-2.
WTA Odds – Wimbledon Women's Singles
Serena Williams -200
Simona Halep +160
"I'm in a different place," Williams said on her success this year. "Like, I just am more calm. Instead of having nothing to lose, I feel like I have things to lose, but I also have nothing to lose. It's like I'm in the middle." 
While Halep is not a household name like her upcoming opponent, she is actually ranked higher, #7, than Williams, #10, in the WTA rankings. 
She will not be an easy task for Williams. In her semifinals match, Halep defeated Elina Svitolina 6-1, 6-3 before telling BBC that she's ready for the final match.
"I believe that I have my chance to win against her… I feel stronger mentally facing her."
After the women's champion is crowned, the men will take Centre Court for their final match Sunday. The match is set with the familiar names of Federer, the +170 underdog, and Djokovic, the -210 favorite. 
ATP Odds – Wimbledon Men's Singles
@Bovada
Roger Federer +170
Novak Djokovic -210
The defending champion Djokovic defeated Roberto Bautista Agut 6-2, 4-6, 6-3, 6-2 in Friday's early match. 
Seeking his fifth Wimbledon title, the #1 ATP player said: "another final is a dream come true. Regardless of the history and many finals I've played, playing finals at Wimbledon is something different."
Like Djokovic, Federer also had a tough matchup before his twelfth Wimbledon final appearance. Battling friendly rival Rafael Nadal, Federer was able to win 7-6 (3), 1-6, 6-3, 6-4 Friday afternoon.
At age 37, Federer becomes the third-oldest man in the Open Era to reach a Grand Slam final.
The 2019 Wimbledon finals are set for Centre Court at the All England Club this weekend. The women's final is scheduled for Saturday at 9:00 am ET, and the men's final will begin at the same time on Sunday.
Both finals can be watched and streamed on ESPN's family of networks.