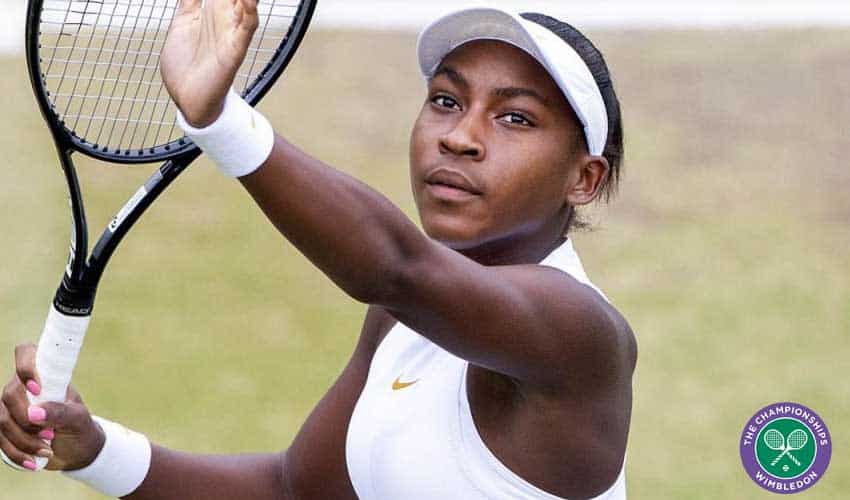 They say never meet your idols.
But they didn't say you should never beat your idols.
Cori "Coco" Gauff, at only 15 years old, defeated five-time Wimbledon champion Venus Williams in straight sets on Monday, 6-4, 6-4.
Williams, one of the most experienced players at Wimbledon this year, and was the oldest in the women's tournament at age 39.
Prior to Wimbledon, Gauff had only played in two other tour-level matches. Williams had more than 1,000 under her belt.
Gauff's athletic prowess comes as no surprise to her family. Her father was a basketball player at Georgia State University, and her mother was a track and field athlete at Florida State University.
Due to her parents' success in other sports, choosing tennis might have seemed like an odd choice for the budding superstar.
However, as Venus and Serena were dominating the Grand Slams throughout the 2000s and 2010s, Gauff was able to watch the game played by the revolutionary sisters.
After the match, Gauff told reporters that she "wouldn't be here if it wasn't for Venus… she's so inspiring."
Venus and Serena were the first black women to win a Grand Slam singles championship since Althea Gibson in the 1950s.
Apart from being inspired by fellow black female tennis pioneers, Gauff also liked the skirts, her father, Corey, says.
So far, the choice to play tennis has turned out well for Gauff.
Legendary tennis player John McEnroe agrees. "I don't say this lightly, but if she isn't No.1 by the time she is 20 I would be absolutely shocked."
Overcome with emotion following the win, Gauff cried tears of joy as her father leapt from his seat in the stands.
In an ESPN interview, Gauff tried to describe her feelings: "Honestly, I don't really know how to feel. This is the first time I ever cried after a match."
In the same article, Gauff's father also described the surreal moment.
"It didn't seem real for a moment," he said
Upsets are a recurring theme this year at Wimbledon as Yulia Putintseva (+1400) defeated two-time champion Naomi Osaka in straight sets on Monday, 7-6, 6-2.
Gauff, who grew up in Florida, currently has +1400 odds, according to Bovada, to win Wimbledon 2019. While these odds are not as high as grass-court favorite Karolina Pliskova's at +110, her chances fare better after such an impressive victory.
Regardless of this year's outcome for Gauff, the young star clearly has the potential to dominate the courts for years to come, just as her idols did before her.