Season V2.0 of Fan-Controlled Football begins this Saturday and once again the league is promising the injection of former NFL stars to attract attention from fans and advertisers alike.
FCF is promoting the return of NFL Hall of Fame member Terrell Owens who has been keeping in shape since his pro football retirement in hopes of earning a roster spot.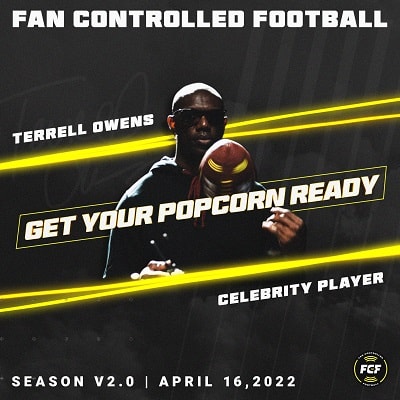 "I'm looking forward to throwing with Johnny or whomever the quarterback may be. If it's Johnny Football, it doesn't matter if it's Pee Wee Herman, as long as they throw the ball where it needs to be and, put it in my catch radius, I'm going to do my best to make some stuff happen with it."

Terrell Owens – Current Fan-Controlled Football Player
Owens, now 48, is also calling for Colin Kaepernick to compete in Fan-Controlled Football via social media. As of today, Kaepernick has yet to enter the FCF Draft player pool, but there's still plenty of time for him to consider becoming a part of the league in 2022.
According to the official FCF website, season V2.0 will operate its weekly draft procedures as they did in season one. Each Wednesday, fans of each FCF team vote on the players they want to draft from an existing pool of talent.
The team that ends up with Terrell Owens in today's draft would certainly gain an edge in the odds for FCF betting, but there are no lines for this weekend's games on the boards as of this writing.
That could change following the results of today's draft, however, odds for betting on FCF games were only presented for Week 3 of the 2022 season. The same can be said for Fan-Controlled Football futures for betting on the team that will win the championship at the end of the playoffs.
A lack of FCF odds within the online sports betting market is likely due to bookmakers not having enough data to formulate accurate lines combined with the overall uncertainty regarding the product.
The same cannot be said for USFL betting which also begins this Saturday alongside the debut of FCF Season V2.0.
The United States Football League drafts permanent rosters that can be relied upon and studied by oddsmakers, and the full slate of Week 1 USFL betting lines in advance of Saturday's games is evidence of how comfortable online sportsbooks have become with the product in a short amount of time.
Another element that is hurting the FCF's chances of making an impact with viewers and online sports bettors is the lack of a network partnership for broadcasting their games on TV.
While Twitch is popular and accessible to younger demographics, it doesn't offer the legitimacy that broadcast television does to season sports fans and bettors.
If both the FCF and USFL return in 2023 for another season, there'll be a third spring pro football league competing alongside them – the XFL.
Odds for betting on the XFL were also plentiful until the 2020 season was forced to cancel after five games due to COVID-19. That's likely one more element keeping FCF betting odds from appearing at online sportsbooks, but TO's inclusion in today's Fan Controlled Football draft should inject some interest from betting sites and football fans.
ESPN | Fan-Controlled Football Official Website