Nov. 10, 2021 Update: Coinify is a third-party cryptocurrency storefront and is not technically partnered with BetUS Sportsbook. Coinify does not endorse online gambling of any kind and is merely a service that anyone can use to quickly purchase several popular crypto coins without the usual exchange delays. 
For the most part, BetUS is a standard – albeit top-tier – legal online sportsbook.
It's got everything you expect out of a US-friendly sports betting site, including all the typical crypto deposit options that make navigating things like the UIGEA banking regulation a breeze.
The online bet funding menu at BetUS includes the following cryptocurrencies:
Bitcoin (BTC)
Bitcoin Cash (BCH)
Litecoin (LTC)
Ethereum (ETH)
But when you check out the site's deposit options, you'll also see this: "ALT CREDIT CARD"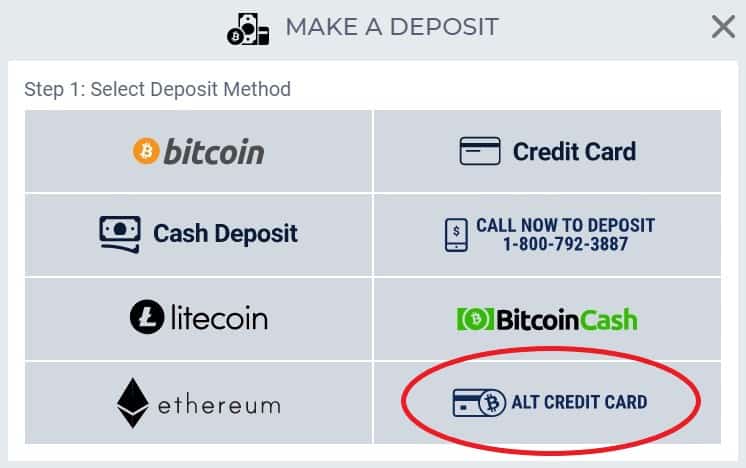 When you click or tap on that, you'll arrive at the following screen:
From here, enter in a dollar amount as prompted (we chose $100 for this example), and you'll get taken to the next step.
This is where you select a sports betting deposit bonus: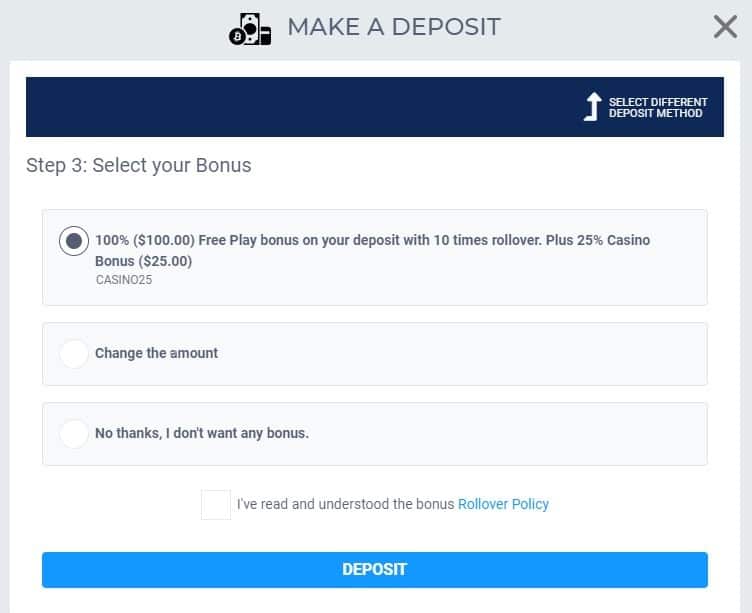 At the next screen, BetUS gives you the option to directly purchase crypto with which to deposit.
This is currently limited to Ethereum, but that could change in the future.
Note: You also have the option to sell Bitcoin for USD by selecting the "Sell BTC" tab on the right:
Click or tap "Buy Now," and you'll be prompted to log into your Coinify account:
Once that's done, your deposit will be transferred to BetUS from the USD stored in your Coinify account (or from a linked card or bank account in your Coinify account).
As such, you'll be able to wager within 30-60 minutes depending on current Ethereum transfer times.
Of course, most players won't already have a Coinify account.
Fortunately, the plugin allows you to set that up quickly and securely, too:
So, why is this important?
Because for first-time crypto users, there's usually a substantial waiting period before the coins you buy through traditional exchanges are credited to your account and eligible to be sent off-platform.
While the delay varies by exchange, it's typically between five and 10 days.
For online sports betting, that's almost always a dealbreaker.
You want to wager tonight or tomorrow, not a week or two from now!
With Coinify at BetUS, that's no longer an issue.
While identity verification is required to use the Coinify platform to send and receive cryptocurrency, that fully automated process takes an average of just two minutes.
Even Cash App – which allows you to quickly buy Bitcoin and send it to any legal sports gambling site – has a 24-48-hour verification process for new members.
The caveat, of course, is that Cash App Bitcoin deposits are accepted by all legal betting sites, whereas credit-to-Ethereum deposits are supported only by BetUS via its Coinify plugin.
Now, this isn't the first time we've seen this particular type of workaround.
For a while, BetOnline Sportsbook and several other operators used a service called Quickbit (aka QB Direct), which worked much the same way.
That is, it allowed site members to make credit card deposits that could be converted to the Litecoin cryptocurrency on the fly.
That LTC would then be automatically credited to your betting bankroll.
However, Coinify is a mainstream crypto trading platform rather than an obscure card-based crypto middleman service.
This gives it a bit more "staying power."
While Quickbit/QB Direct lasted about a year before being abandoned by US-facing sportsbooks, Coinify will have no such problems getting off the ground.
Because it's already off the ground.
So if you want the fastest way to get your crypto sports betting off the ground, too, the BetUS Coinify option is something well worth considering.
For more on the many deposit and withdrawal options available at BetUS, check out our in-depth BetUS sportsbook review.