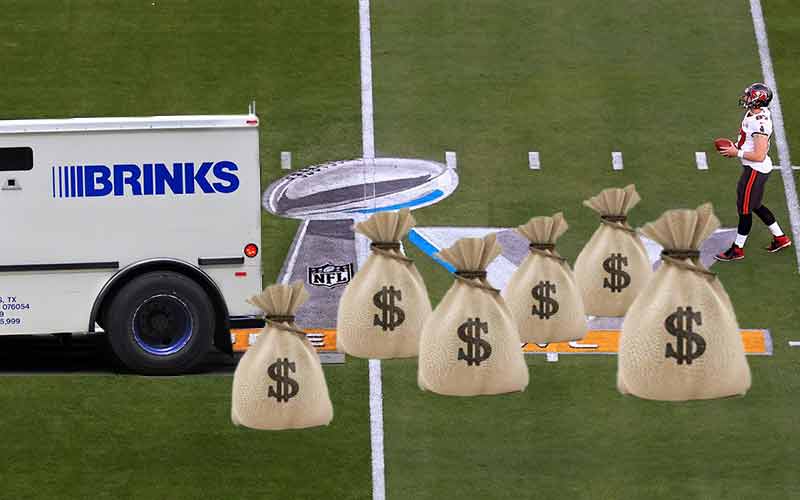 Tom Brady and the Tampa Bay Buccaneers defeated the Kansas City Chiefs last night by a score of 31-9. It is Tampa Bay's second Super Bowl win, and it is the seventh time that Brady has led a team to an NFL title.
It is also the fifth time that Brady has become the MVP of the Super Bowl.
Brady's contract is loaded with performance-based incentives. Just making it to the Super Bowl triggered $1.75 million in additional salary, and another $500,000 was added to that when his team won SB LV.
Tom Brady is not the only person on the planet that earned a large payday when the Bucs won last night.
During the week following the AFC and NFC Conference Championship Games, a mysterious gambler laid a massive $2.3 million Super Bowl bet on Tampa Bay to cover the +3.5 spread at BetMGM sportsbook.
Jim McIngvale, also known as Mattress Mack, placed a $3.48 million bet on Tampa +3.5 at DraftKings. The wager was part of a promotion from his mattress store where he took the money earned from selling beds and bet it on the Bucs.
The gist of the promotion is, if Tampa wins Super Bowl 55, then everyone gets a free mattress via a refund from Mack's betting profits.
Just hours before the big game, another $1,000,000 wager was laid on Tampa's NFL money line odds of +135.
All three big money wagers cashed in last night and earned each bettor more money than Brady earned during Super Bowl 55, and all they had to do was visit a sportsbook or pull up a mobile NFL betting app and risk some bankroll.
It takes money to make money, and that old adage holds true this morning, as the only way to secure such a large cash payout on last night's Super Bowl betting odds involved risking seven figures of your own money.
Because Tampa not only covered the 3.5 points but won the game outright, the $2.3 million wager was successful and the bettor won a cool $2 million from BetMGM.
Mattress Mack was able to win his $3.48 million bet on the Bucs, double his money, and earn his customers a free mattress.
Money line odds are set up in such a way that bettors need only pick the team they think will win, or the outcome that they think will occur. The $1 million bet on the Buccaneers to win outright earned $1.35 million.
While Tampa did feature the largest reported bets made on them to win, there were a few large wagers in the neighborhood of $100,000 that was lost betting on the Chiefs to win SB LV.
Although we've yet to see any exact numbers, reports indicated that most of the action was coming in on Kansas City and that the large wagers on Tampa Bay were welcome because they served to balance out the lines once again.
The line did end up shifting from -3.5 to -3 on Friday, which is further evidence that Tampa was receiving additional action in the final days before Super Bowl 55, but ultimately it was not enough to curb bets on TB.
Even Tom Brady's MVP odds paid out well, as many cashed in on his +190 money line odds, nearly doubling their money.
Tom Brady and his head coach Bruce Arians have both announced their intentions to take another shot at a Lombardi Trophy next season, and Super Bowl 56 futures have already been revealed that feature the Tampa Bay Buccaneers once again placed near the top of the odds.
Super Bowl 56 Odds To Win
Kansas City Chiefs +500
Tampa Bay Buccaneers +900
Green Bay Packers +1100
Buffalo Bills +1200
Los Angeles Rams +1200
Baltimore Ravens +1600
San Francisco 49ers +1600
New Orleans Saints +2000
Seattle Seahawks +2000
Cleveland Browns +2500
Indianapolis Colts +2500
Tennessee Titans +2800
Miami Dolphins +3000
New England Patriots +3000
Dallas Cowboys +3300
Pittsburgh Steelers +3300
Source: Sporting News, Yahoo! Sports
Betting Odds: Bovada