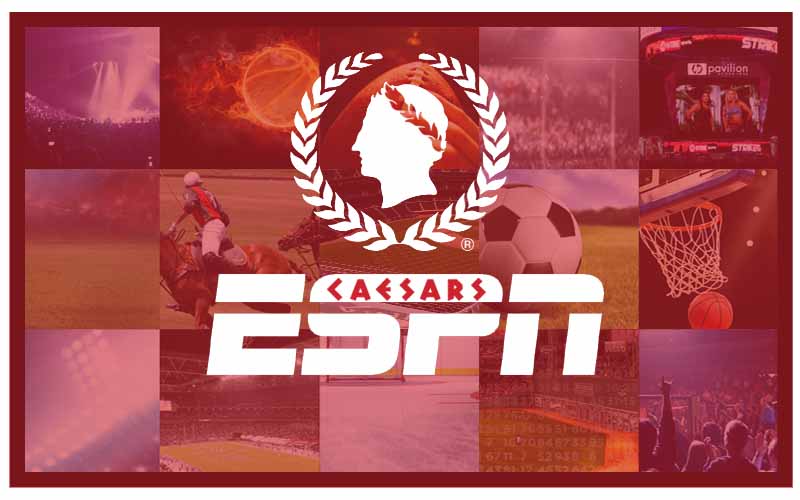 As legal sports betting continues to spread across the United States, two industry leaders in sports media and casino entertainment struck a deal earlier this week.
The Disney-owned ESPN and Caesars Entertainment announced Tuesday that the two companies would be partnering to provide a wide range of content for sports betting fans.
So, what's in the deal? Here's everything we know so far.
ESPN is coming to Las Vegas
ESPN's main studio in Bristol, Connecticut is where "The Worldwide Leader in Sports" got its start nearly 40 years ago, and the television network has since added studio offices in Miami, New York City, Seattle, Charlotte, and Los Angeles.
And soon, there will be an ESPN studio on the Strip in Las Vegas, Nevada.
The new studio will be built inside the Caesars-owned LINQ Las Vegas Hotel & Casino. The two companies said it would "play a vital role during major sporting events" and will be the hub for sports-betting-themed content across all of ESPN's cable, digital, and social networks and apps.
It's not known if ESPN will be moving "Daily Wager" — its recently launched show dedicated to sports betting — but the studio will contribute segments to the show.
ESPN's Las Vegas studio is scheduled to launch in 2020.
Caesars will provide sports betting data
ESPN has provided point spread, money line, and over/under as well as probability (% chance a team has to win) information in its box scores for several years now.
As part of the agreement, Caesars becomes ESPN's official data supplier for all odds and betting lines information, which will be featured across all of the sports networks' broadcasts and products for television, online, and mobile.
Caesars will begin integrating its sports betting data across all ESPN programming and platforms within the next few weeks.
ESPN betting app isn't likely
Disney CEO Bob Iger told analysts in an earnings call that his strategy is for the company not to enter the sports gambling business — like competitor Fox Sports has with its Fox Bet app — and instead work alongside the casino and sportsbook industry in the US to provide information and insight on the topic.
"We'll provide programming that will, I guess, be designed to enlighten people who are betting on sports, but that's as far as we would go," Iger said in the earnings call. "I think you'll see more of it integrated in the programming, but we just don't intend to go into the gambling business."
Plans can always change, and ESPN could offer a sportsbook or betting app, but currently, it appears Disney wants to maintain the "family-friendly" identity for all of ESPN's content.
How much the deal is worth
The specific financial terms of the ESPN-Caesars partnership were not made available to the public.
ESPN is currently available to around 90 million households in the United States, which gives Caesars a ton of exposure as sports betting becomes more mainstream.
The American Gaming Association estimated that $7.9 billion was wagered in states with legal sports betting during the past year.
That number will continue to grow as more states pass legislation, and the ESPN-Caesars deal will look to capitalize on an industry that could be worth hundreds of billions of dollars within the next decade.
Why the ESPN-Caesars deal happened
The deal's announcement coincided with the one-year anniversary of PASPA being struck down by the Supreme Court on May 14, 2018, which is why the ESPN-Caesars deal was possible.
Now that the federal ban on sports betting has been lifted, lawmakers have begun to pass legislation in their state to allow land-based, online and mobile sportsbooks or both to operate within its jurisdiction.
Sports and betting are predicted to become synonymous with one another as more and more states legalize sports betting, and big-time companies like ESPN and Caesars will continue to enter into agreements that will integrate betting content into sports broadcasts.
"The sports betting landscape has changed, and fans are coming to us for this kind of information more than ever before," said Mike Morrison, ESPN's vice president of business development. "We are poised to expand our coverage in a big way and working with a category leader like Caesars Entertainment will help us serve these highly engaged, diverse sports fans with the best and most relevant content possible."
Over half of the US could have legal sports betting by the end of 2019, and there will likely only be a handful of states without it five years from now. With that kind of positive outlook, both ESPN and Caesars saw this as an opportunity to position themselves to take advantage of the newly introduced and rapidly expanding market.