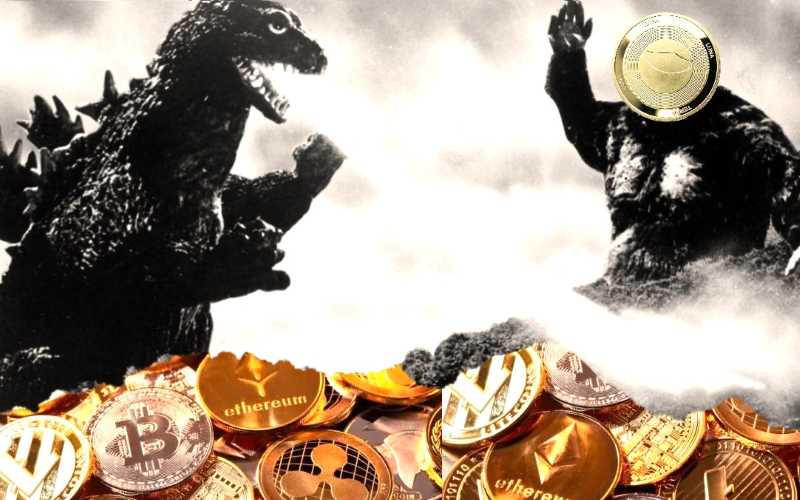 In the crypto world, you know things are bad when a stablecoin crashes. And yesterday, when TerraUSD (UST) fell to under $0.70 per coin, that's exactly what happened.
While it isn't unheard of for "normal" crypto coins to experience major dips in value (Cardano is down to just $0.69 per ADA coin right now, so buy low!), it's not particularly encouraging when stablecoins fall off a cliff.
Remember, these kinds of crypto assets are supposed to be tied 1:1 to some other fixed asset. In most cases – as in this one – that's the US dollar. And after Tether and USD Coin, TerraUSD was (and actually remains) the most prominent stablecoin on the crypto boards.
Of course, TerraUSD is backed by the Terra (LUNA) network, which also saw massive losses on yesterday's collapse.
And that's a problem because the mechanism whereby UST remains pegged at $1.00 comes from ostensible "liquid" backing on the Terra network. If the latter falls beneath the former, the entire premise of the stablecoin becomes something…less than compelling.
Here's how the Goblin King of the scam bots (@DegenSpartan) explains it:
is there a problem if UST mcap is larger than LUNA mcap https://t.co/24z3kPMpNv

— 찌 G 跻 じ Goblin King of the scam bots (@DegenSpartan) May 9, 2022
Yesterday, as you can see, the market cap for UST was sitting at $18.45 billion or so, while the market cap for LUNA was at $18.43 billion.
Some 20 hours later, and here's where those two networks stand (per CoinMarketCap):
TerraUSD UST – $16.75 billion
Terra LUNA – $11.48 billion
The delta, clearly, has grown incredibly. The fallout hasn't even begun:
No matter how this ends, I don't want people to call UST decentralized again. Even the little collateral backing it has is intransparent and controlled by a single party. Used to perform discretionary open market operations. This is like 10x worse than the Fed.

— Hasu⚡️🤖 (@hasufl) May 9, 2022
Now, to be sure, the UST price has risen back to $0.93 since it collapsed below $0.70 yesterday, which is where it sits now.
Why this is happening when the price of Terra continues to plummet – LUNA is down 46.6% over the last 24 hours and down 61.7% over the last week – is curious, but it might have something to do with less informed crypto investors assuming that it's "inevitable" for an alleged USD-pegged stablecoin to "return" to its $1.00 valuation.
Thus, many people might be buying UST low and waiting to clear a nice profit once the coin gets back to a buck.
So far, that appears to be what's happening, and many investors might have just earned a nice chunk of change on UST in the last day.
However, none of this will do much to fix UST's reputation.
Before the crash, many crypto bros were already calling TerraUSD the "shitcoin of stablecoins," and that seems to be forever borne out.
Perhaps it's time to rebrand TerraUSD UST™ to Eternal BTFO™.
(Also – and this goes without saying – we're officially revising our assessment that LUNA will be one of the next cryptocurrencies supported by the best legal online sportsbooks.)
Now, with all that said, take care not to be fearmongered out of crypto investing or crypto betting, lest you be eternally BTFO, too.
Right now is the absolute best time to buy pretty much anything, and these kinds of opportunities only come around once every few years.
As always, we recommend putting as much as you can in each of the top 10 cryptos (excepting stablecoins and memecoins and LUNA) and then letting it ride.
Given that all these assets have a history of eventually meeting and surpassing their previous all-time highs, we've put together a conservatively optimistic (or optimistically conservative) analysis of what you might make in the near- to mid-term future if you've got a grand to spare.
(Please note that the following analysis doesn't take into account things like trading fees, blockchain fees, and the like.)
Bitcoin BTC – $31,739.27 (

↓17.0% weekly

); $100 = 0.0032 BTC; ATH $67,566.83; growth to ATH = ↑881%; $100 at ATH = $216.21
Ethereum ETH – $2410.76 (

↓14.7% weekly

); $100 = 0.0415 ETH; ATH $4812.09; growth to ATH = ↑609%; $100 at ATH = $199.70
Binance Coin BNB – $325.13 (

↓15.6% weekly

); $100 = 0.3076 BNB; ATH $675.68; growth to ATH = ↑818%; $100 at ATH = $207.84
Ripple XRP – $0.52 (

↓15.1% weekly

); $100 = 192.3077 XRP; ATH $3.38; growth to ATH = ↑550%; $100 at ATH = $650.00
Solana SOL – $71.86 (

↓17.5% weekly

); $100 = 1.3916 SOL; ATH $258.93; growth to ATH = ↑326%; $100 at ATH = $360.33
Cardano ADA – $0.68 (

↓13.7% weekly

); $100 = 147.0588 ADA; ATH $3.09; growth to ATH = ↑412%; $100 at ATH = $454.41
Avalanche AVAX – $49.13 (

↓18.9% weekly

); $100 = 2.0354 AVAX; ATH $134.53; growth to ATH = ↑825%; $100 at ATH = $273.82
Polkadot DOT – $12.00 (

↓19.5% weekly

); $100 = 8.3333 DOT; ATH $53.88; growth to ATH = ↑349%; $100 at ATH = $449.00
Tron TRX – $0.08 (

↑10.8% weekly

); $100 = 1250 TRX; ATH $0.22; growth to ATH = ↑175%; $100 at ATH = $275.00
Polygon MATIC – $0.96 (

↓12.2% weekly

); $100 = 104.1667 MATIC; ATH $2.88; growth to ATH = ↑200%; $100 at ATH = $300.00
So, if all these coins hit their previous ATHs, you'll turn $1000 into $3386.31. But even if you take away some of the biggest potential gainers by this metric – such as Ripple and ADA – you'll still come out well over a grand in profit.
When the worst-case scenario is a return of more than 100%, that's a pretty good problem to have.
For once, we're going to take our own advice and do this ourselves. We'll let you know how it goes.
Eternal BTFO is a pending registered trademark of SportsBetting.Legal. Copyright 2022 and stuff. Don't steal it. Or else.