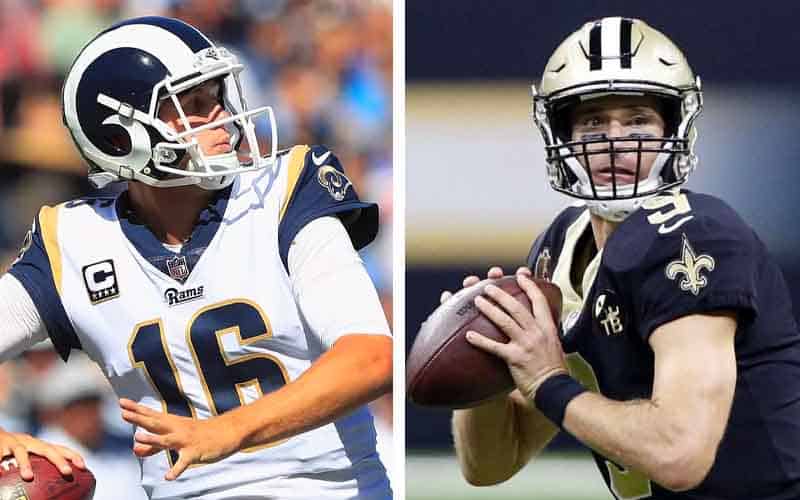 Week 2 of the NFL season started last night with the last-second defensive thriller between the NFC South rivals Carolina Panthers and Tampa Bay Buccaneers.
To prepare for the rest of Week 2, NFL betting lines for every matchup are provided below for this Sunday and Monday. Each game listed features the spread, over/under, odds, and game information.
If the spreads hold up, every game in Week 2– except for the Ravens-Cardinals and Patriots-Dolphins games– should be single-digit battles like last night's game.
The most compelling game this weekend is last year's NFC Championship rematch between the New Orleans Saints and Los Angeles Rams. Following a no-call on a blatant defensive passing interference penalty, the Saints were not able to score, eventually resulting in a Rams win. This even led to the league changing rules surrounding PI challenges.
Nevertheless, the Rams are 2-point favorites at home Sunday afternoon. But expect the Saints to seek revenge and prove that they were cheated out of a Super Bowl birth last season.
NFL Week 2 Betting Lines
Indianapolis Colts vs. Tennessee Titans
Spread: TEN -3
Over/Under: 44
Odds: TEN 60.30%, IND 39.70%
Kickoff: Sunday, September 15 at 1:00 pm ET on FOX
Location: Nissan Stadium ‒ Nashville, TN
Los Angeles Chargers vs. Detroit Lions
Spread: LAC -2
Over/Under:5
Odds: LAC 54.03%, DET 45.97%
Kickoff: Sunday, September 15 at 1:00 pm ET on CBS
Location: Ford Field ‒ Detroit, MI
Buffalo Bills vs. New York Giants
Spread: BUF -1.5
Over/Under: 44
Odds: BUF 52.28%, NYG 47.73%
Kickoff: Sunday, September 15 at 1:00 pm ET on CBS
Location: MetLife Stadium ‒ East Rutherford, NJ
Arizona Cardinals vs. Baltimore Ravens
Spread: BAL -13
Over/Under: 46
Odds: ARI 85.47%, BAL 14.53%
Kickoff: Sunday, September 15 at 1:00 pm ET on FOX
Location: M&T Bank Stadium ‒ Baltimore, MD
New England Patriots vs. Miami Dolphins
Spread: NE -19.5
Over/Under:5
Odds: NE 93.95%, MIA 6.05%
Kickoff: Sunday, September 15 at 1:00 pm ET on CBS
Location: Hard Rock Stadium ‒ Miami Gardens, FL
Dallas Cowboys vs. Washington Redskins
Spread: DAL -6
Over/Under:5
Odds: DAL 70.05%, WAS 29.95%
Kickoff: Sunday, September 15 at 1:00 pm ET on FOX
Location: FedEx Field ‒ Landover, MD
Jacksonville Jaguars vs. Houston Texans
Spread: HOU -8.5
Over/Under:5
Odds: HOU 78.25%, JAX 21.75%
Kickoff: Sunday, September 15 at 1:00 pm ET on CBS
Location: NRG Stadium ‒ Houston, TX
Seattle Seahawks vs. Pittsburgh Steelers
Spread: PIT -3.5
Over/Under: 47
Odds: PIT 63.23%, SEA 36.77%
Kickoff: Sunday, September 15 at 1:00 pm ET on FOX
Location: Heinz Field ‒ Pittsburgh, PA
San Francisco 49ers vs. Cincinnati Bengals
Spread: CIN -1.5
Over/Under:5
Odds: CIN 52.95%, SF 47.05%
Kickoff: Sunday, September 15 at 1:00 pm ET on CBS
Location: Paul Brown Stadium ‒ Cincinnati, OH
Minnesota Vikings vs. Green Bay Packers
Spread: GB -2.5
Over/Under:5
Odds: GB 56.44%, MIN 43.56%
Kickoff: Sunday, September 15 at 1:00 pm ET on FOX
Location: Lambeau Field ‒ Green Bay, WI
Kansas City Chiefs vs. Oakland Raiders
Spread: KC -7.5
Over/Under:5
Odds: KC 73.73%, OAK 26.27%
Kickoff: Sunday, September 15 at 4:05 pm ET on CBS
Location: RingCentral Coliseum ‒ Oakland, CA
New Orleans Saints vs. Los Angeles Rams
Spread: LAR -2
Over/Under: 52
Odds: LAR 54.45%, NO 45.55%
Kickoff: Sunday, September 15 at 4:25 pm ET on FOX
Location: Los Angeles Memorial Coliseum ‒ Los Angeles, CA
Chicago Bears vs. Denver Broncos
Spread: CHI -3
Over/Under: 40
Odds: CHI 58.26%, DEN 41.74%
Kickoff: Sunday, September 15 at 4:25 pm ET on FOX
Location: Empower Field and Mile High ‒ Denver, CO
Philadelphia Eagles vs. Atlanta Falcons
Spread: PHI -2
Over/Under: 5
Odds: PHI 55.47%, ATL 44.53%
Kickoff: Sunday, September 15 at 8:20 pm ET on NBC
Location: Mercedes-Benz Stadium ‒ Atlanta, GA
Cleveland Brown vs. New York Jets
Spread: CLE -6.5
Over/Under: 44
Odds: CLE 72.14%, NYG 27.86%
Kickoff: Monday, September 16 at 8:15 pm ET on ESPN
Location: MetLife Stadium ‒ East Rutherford, NJ