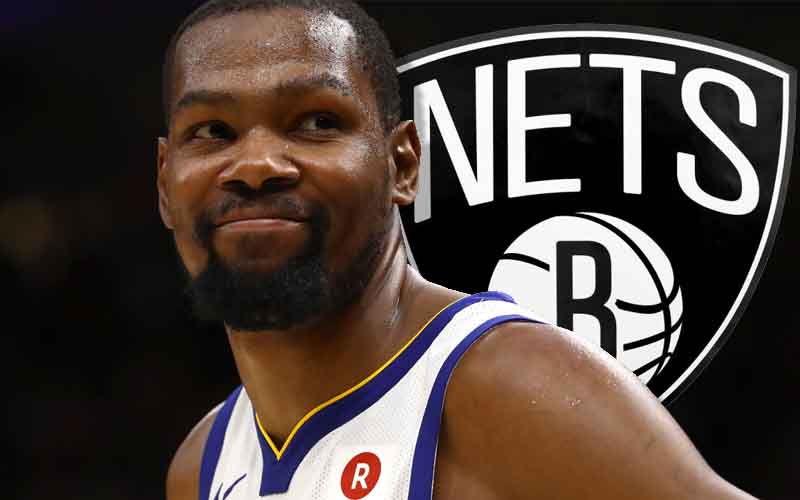 The Brooklyn Nets haven't won a championship since 1976 when Julius Erving was helping the New York Nets dominate the ABA.
But the team hopes the signings of Kevin Durant, Kyrie Irving, and DeAndre Jordan will change that narrative, and hopefully, their odds of winning the Larry O'Brien Trophy.
On the first day of the 2019 NBA free agency, Brooklyn was able to secure two of the biggest names on the market, Durant (four-years, $164 million according to ESPN's Adrian Wojnarowski) and Irving (four-years, $141 million per Wojnarowski).
The team was also able to ink veteran center Jordan at four-years, $40 million.
Durant is expected to sit out the entire 2019-20 NBA season due to his Achilles injury suffered in Game 5 of the 2019 NBA Finals, which is probably why Brooklyn's 2020 NBA Finals odds have not changed too much since the announcement.
2020 NBA Championship Odds
@ MyBookie
Los Angeles Lakers +260
Toronto Raptors +700
Milwaukee Bucks +700
Houston Rockets +900
Golden State Warriors +1000
Philadelphia 76ers +1000
Los Angeles Clippers +1300
Brooklyn Nets +1600
Boston Celtics +1600
Denver Nuggets +1800
Utah Jazz +2000
Oklahoma City Thunder +2800
Portland Trail Blazers +3300
Indiana Pacers +3300
New Orleans Pelicans +4000
Dallas Mavericks +5500
San Antonio Spurs +6000
New York Knicks +8000
Miami Heat +8000
Orlando Magic +9000
Atlanta Hawks +10000
Sacramento Kings +10000
Chicago Bulls +15000
Washington Wizards +20000
Memphis Grizzlies +20000
Minnesota Timberwolves +20000
Detroit Pistons +20000
Phoenix Suns +30000
Cleveland Cavaliers +30000
Charlotte Hornets +40000
Currently, MyBookie has Brooklyn at +1600 to win the championship in 2020, trailing Durant's former team of Golden State (+1000) and tied with Irving's former squad in Boston (+1600).
Despite not signing any high-profile players on the first day of free agency, MyBookie still favors the Los Angeles Lakers to win the 2020 Finals due to their acquisition of Anthony Davis in June.
The Lakers sit at +260 to win the championship, beating out 2019 champions Toronto (+700) and a Milwaukee team led by 2019 MVP Giannis Antetokounmpo (+700).
Of course, these odds do not account for 2019's biggest prize: Kawhi Leonard.
Leonard did not make his decision on Day One, but the reigning Finals MVP narrowed his suitors to the Toronto Raptors and both of his hometown LA teams.
If Leonard decides to stay in Toronto or go to the Clippers, he will be the singular superstar on a playoff team.
But if he signs with the Lakers, he would join LeBron James and Davis to potentially make the most prolific Big Three combo in NBA history.
Plenty of other big names signed their new deals on Sunday.
Klay Thompson decided to stay in Golden State for the next five years for $190 million.
With the sign-and-trade deal also bringing D'Angelo Russell to Golden State, MyBookie gives the Warriors the fifth-best odds to win another championship.
Kemba Walker chose the Boston Celtics, filling the Irving-void, at $141 million over four years. However, with the loss of Al Horford to the 76ers, Boston does not fare well in the odds (+1600).
In what may be the most intriguing free agency decision, Jimmy Butler signed with the Miami Heat for four years and $141 million. MyBookie gives the Heat odds of +8000 to win the 2020 championship, near the bottom of the league.
Maybe Butler just needed warmer weather since he's played in the north since his college days at Marquette. No state income taxes doesn't hurt either.
Ultimately, until Leonard signs his new deal, odds and predictions are going to fluctuate with the rumor mill.
Regardless, if he stays north-of-the-border or heads back home to the West Coast, the 2019-20 NBA season should be one of the most interesting in recent memory.