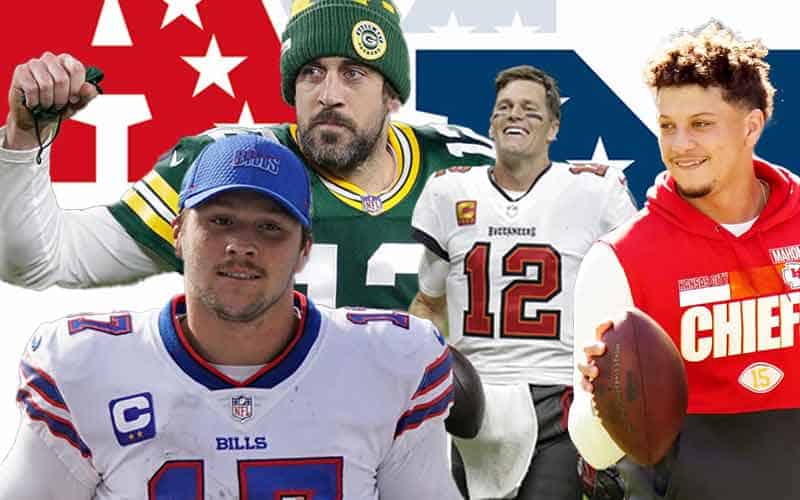 Both home teams are slight favorites in the AFC and NFC Championship Games this Sunday afternoon, with spreads within the margin of a field goal for each contest.
When football games are predicted to be close competitions, finding an edge in the betting world can prove difficult. Close margins equate to near pick 'ems, removing much of the intrigue from betting on NFL money lines and point spreads.
In tightly predicted NFL contests with neither team too far ahead in the odds, the underdogs don't provide the enticing profits that they usually deliver.
Sure, the over under is always a reliable betting option when it comes to NFL Playoff odds, but laying action on the combined point total of both teams is more of a proposition, and may leave some fans looking for an alternative.
That's where the following NFL Conference Championship prop bets can come in for a last-second hail-Mary score. You don't have to wait to bet on Super Bowl 55 to take part in all the fun NFL prop bets. The top sportsbook sites have plenty posted right now.
Online sports betting sites that offer odds on the NFC and AFC Championship Games typically include dozens of routine prop bets for each contest, but only on the most popular of matchups do they provide odds on individual player performances.
Here are a few of the most attractive NFL Playoff prop bets that are being offered for Sunday's action.
Conference Championships Weekend: Most Passing Yards
Patrick Mahomes (KC) +250
Josh Allen (BUF) +200
Aaron Rodgers (GB) +275
Tom Brady (TB) +215
Buffalo Bills QB Josh Allen is leading the odds to earn the most passing yards versus a suspect Kansas City Chiefs' secondary, however, all options are listed in the positive and will at least double your profits if you can select the top quarterback.
Conference Championships Weekend – Most Points Scored
Kansas City Chiefs +175
Green Bay Packers +200
Buffalo Bills +250
Tampa Bay Bucs +350
If you score the most points out of all teams that are taking part in the final round of the NFL Playoffs, logic dictates that you can't help but win the game. Based on the above prop bet, KC has the highest likelihood of winning their game and earning a trip to Super Bowl LV.
Conference Championships Weekend: Most Receiving Yards
Stefon Diggs (BUF) +250
Davante Adams (GB) +275
Tyreek Hill (KC) +350
Travis Kelce (KC) +375
Chris Godwin (TB) +1000
Mike Evans (TB) +1200
Allen Lazard (GB) +1800
John Brown (BUF) +2000
Antonio Brown (TB) +2000
Marquez Valdes-Scantling (GB) +2200
Robert Tonyan (GB) +2500
Cole Beasley (BUF) +3000
Gabriel Davis (BUF) +3000
Rob Gronkowski (TB) +3000
Mecole Hardman (KC) +3500
NFL Conference Championships Weekend: Most Rushing Yards
Aaron Jones (GB) +110
Devin Singletary (BUF) +500
Leonard Fournette (TB) +450
Clyde Edwards-Helaire (KC) +575
Ronald Jones II (TB) +575
Darrel Williams (KC) +750
Jamaal Williams (GB) +1100
AJ Dillon (GB) +2000
Le'Veon Bell (KC) +2500
The two above props allow NFL bettors to pick the player they think will have the most rushing or receiving yards over the course of Sunday's playoff games. Again, all options are listed in the positive and the potential payouts can provide some extra change to lay some action on the Super Bowl in two weeks.
NFL Conference Championship Weekend – Total Combine Points Scored
Over 105.5 -120
Under 105.5 -120
One final prop bet for the Conference Championship Round of the 2020-21 NFL Playoffs provides an over under for the total of both games, which brings us back to one of our original points. Isn't the over under just another prop bet? Perhaps we'll write up a deep dive into that topic in the future.
For now, take advantage of these final NFL Playoff odds of the season and gear up for Super Bowl 55 on February 7.
Betting Odds: Bovada
Source: ESPN