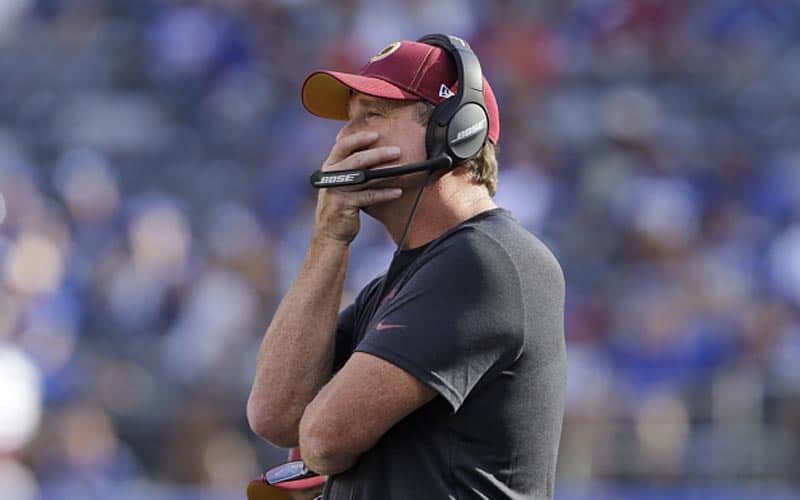 At least Jay Gruden was able to do one thing expected of him this season: Get fired first.
After starting the season 0-5 in Washington, bringing his record with the Redskins to 35-49-1, the team canned Gruden in the most fitting way the historically dysfunctional franchise could: calling him into the office at 5:00 am ET on a Monday to deliver the news.
While offensive line coach Mike Callahan takes over as the team's interim head coach, the Redskins will begin their look for Gruden's permanent replacement. Kansas City Chiefs offensive coordinator Eric Bieniemy is the current favorite with +350 odds.
Odds to be the Redskins head coach in Week 1 of 2020 NFL season
Eric Bieniemy +350
Byron Leftwich +600
Todd Bowles +600
Mike Pettine +600
Greg Olson +800
Josh McDaniels +1000
Kevin O'Connell +1200
Mike Tomlin +1400
Joe Judge +1500
Dennis Allen +1800
Jim Caldwell +1800
Mike McCarthy +1800
Jim Schwartz +2000
Ken Whisenhunt +2000
Kevin Stefanski +2000
Kris Richard +2000
Matt Eberflus +2000
Mike Munchak +2000
Robert Saleh +2000
Dan Campbell +2500
Jim Harbaugh +2500
Todd Monken +2500
Brian Schottenheimer +3300
Dave Toub +3300
John DeFilippo +3300
Chip Kelly +5000
Guz Malzahn +5000
Kellen Moore +5000
Lincoln Riley +5000
Ryan Day +5000
Todd Haley +5000
Jimbo Fisher +10000
Lane Kiffin +10000
Matt Campbell +10000
Matt Rhule +10000
Mike Gundy +10000
Mike Leach +10000
Rex Ryan +10000
Tom Herman +10000
Sean Payton +15000
Brian Kelly +20000
Chris Petersen +20000
David Shaw +20000
Urban Meyer +20000
Dabo Swinney +25000
Nick Saban +25000
Bill Cowher +50000
Norv Turner +50000
Peyton Manning +50000
Tony Romo +50000
Bieniemy is a former NFL running back that began his coaching career as the running backs coach at the University of Colorado. Bieniemy has been with the Chiefs since 2013 and became the team's OC in 2018.
Byron Leftwich, Todd Bowles, and Mike Pettine all share the second-best odds to be the next Washington head coach at +600.
Leftwich, another former pro, is currently the Tampa Bay Buccaneers offensive coordinator after beginning his career as the quarterbacks coach for the Arizona Cardinals in 2017.
Bowles also coaches with the Bucs as the team's defensive coordinator. From 2015-2018, Bowles was the head coach of the New York Jets.
As another defensive coordinator and former head coach, Pettine is the current DC for the Green Bay Packers.
According to odds released by BetOnline before the 2019 NFL season started, Gruden was on a sizzlingly hot seat and favored to be the first head coach fired with +450 odds.
In a team statement, the Redskins said that the squad was not performing as well as they had hoped for in 2019.
"Through the first five games of the 2019 season, the team has clearly not performed up to expectations, and we all share in that responsibility. Moving forward, we are committed to doing all that we can collectively as an organization to turn things around and give our Redskins fans and alumni a team they can be proud of in 2019 and beyond."
Since Daniel Snyder's purchasing of the Redskins in 1999, the team has fired five coaches and two more have resigned. Washington has never had a head coach with an overall winning record under Snyder, although the team has won the NFC East three times, including one with Gruden in 2015.
Gruden's 2015 NFC East title could be his ticket to his next coaching job. Proving that he can coach effectively, even just once, can go a long way in today's NFL.
Emerging rumors place Gruden in Oakland with his older brother, Raider head coach Jon Gruden, for the rest of this season or for their inaugural 2020 season in Las Vegas.
Gruden could also become the head coach of another NFL franchise in 2019, depending on the teams' decisions on their current head coaches.
After giving up 53 points to the Houston Texans on Sunday, the Atlanta Falcons could look to fire the 1-4 Dan Quinn, opening a spot for Gruden.
The Miami Dolphins, giving up over 40 points per game this season, may also be looking to ditch HC Brian Flores in favor of Gruden.
Aside from Quinn and Flores, Dallas Cowboys head coach Jason Garrett is also on the hot seat. Doug Marrone of the Jacksonville Jaguars is another chopping block possibility, although QB Gardner Minshew may single-handedly save his coach's job.
Regardless of what happens to him next, Gruden getting impeached and removed as coach by the front office might best thing for both him and the Redskins organization. With the record already stacked against them, whoever is the new Washington coach will likely have unfavorable betting odds throughout the rest of the season.