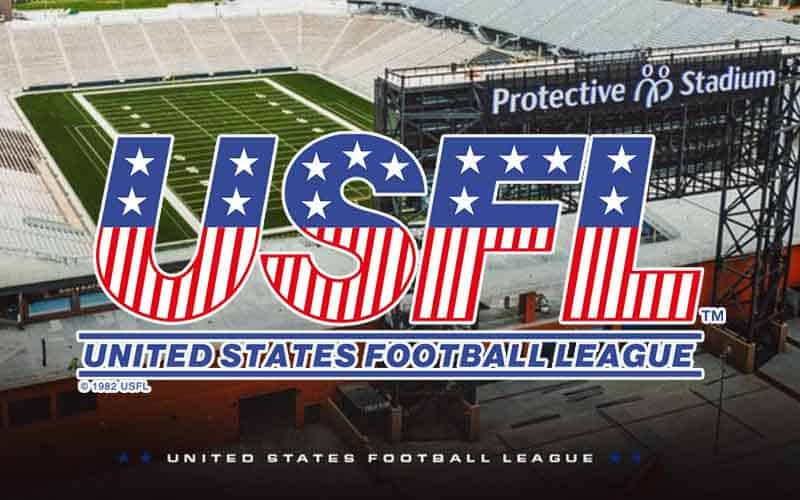 The United States Football League (USFL) is yet another professional football league that is attempting a relaunch, with plans to begin their resurrection on April 16 of this year.
Much like the XFL did in 2020 with their second go-round, the USFL is reaching even further back after a 37-year absence from broadcast television, football stadiums, and online sports betting sites.
No longer is Donald Trump a part of USFL franchise ownership, but his old New Jersey Generals will once again take to the field alongside several other familiar names each week in Birmingham, Alabama.
You read that right. Every single game will take place in Birmingham, AL's Protective Stadium or Legion Field. Due to a scheduling conflict, the USFL semifinals and Championship Game will be held in Canton, Ohio, at the Hall of Fame Stadium.
It is unknown at this time if the USFL intends to allow for each of their teams to host home games and to attain home-field advantage in the playoffs and/or USFL Championship in future seasons.
What is known are the 8 USFL teams for 2022, as well as divisional alignment.
USFL Teams And Divisions
South Division
Birmingham Stallions – Head Coach: Skip Holtz
Houston Gamblers – Head Coach: Kevin Sumlin
New Orleans Breakers – Head Coach: Larry Fedora
Tampa Bay Bandits – Head Coach: Todd Haley
North Division
Michigan Panthers – Head Coach: Jeff Fisher
New Jersey Generals – Head Coach: Mike Riley
Philadelphia Stars – Head Coach: Bart Andrus
Pittsburgh Maulers – Head Coach: Kirby Wilson
The top two finishers in each USFL Division face each other in the semifinals (USFL Playoffs), with the winners then advancing to the championship. Although USFL betting odds have yet to debut, it can be expected that the Michigan Panthers will be at the top of the list because their head coach is Jeff Fisher.
Fisher was the long-time head coach of the NFL's Tennessee Titans, taking them to Super Bowl XXXIV where they lost to the Los Angeles Rams who were known as the greatest show on turf. Oddly enough, Fisher's next stint was with the LA Rams, but success eluded him and his second run was much shorter.
When the initial odds for XFL betting debuted in early 2020, the Dallas Renegades were projected to win it all in futures lines because they were coached by Bob Stoops who had experienced a high level of success in the college football ranks with the Oklahoma Sooners.
While Jeff Fisher never won a Super Bowl with the Rams or Titans, his pedigree will go a long way in the opinions of pro football oddsmakers.
USFL betting odds are not likely to emerge until after today and tomorrow's USFL Draft, which is actually being referred to as a "Player's Selection Meeting."
The 2022 USFL Draft will take place today and tomorrow and will not be televised. The USFL Draft order for 2022 is as follows:
2022 USFL Draft Order
Michigan Panthers
Tampa Bay Bandits
Philadelphia Stars
New Jersey Generals
Houston Gamblers
Birmingham Stallions
Pittsburgh Maulers
New Orleans Breakers
USFL teams are not allowed to simply select the best player on the boards, regardless of position. There's a positional designation for each round that each franchise must follow.
Day 1
Round 1: Quarterbacks
Rounds 2-4: Edge rushers/defensive ends
Rounds 5-7: Offensive tackles
Round 8-11: Cornerbacks
Round 12: Quarterbacks
Day 2
Rounds 13-17: Wide receivers
Rounds 18-19: Safeties
Round 20: Centers
Round 21: Inside linebackers
Rounds 22-23: Offensive guards
Rounds 24-26: Defensive tackles and nose tackles
Rounds 27-28: Running backs and fullbacks
Rounds 29-31: Outside linebackers
Round 32: Kickers
Round 33: Punters
Round 34: Tight ends/H-backs
Round 35: Long snappers
Only time will tell if this alternative to NFL betting will take hold. What's for sure is that if no one ever tries, we'll never find out. Fox Sports owns the USFL and is committed to a 3-year run, and with the XFL promising a return in 2023, spring football seems to be here to stay for the short term.