Legal 2023 MLB Spring Training Betting Guide
2023 MLB Spring Training Betting Lines Offered For Each Game
Cactus And Grapefruit League Odds Project Winners
2023 MLB Spring Training Begins in February
Spring Training isn't just when a young man's fancy turns to thoughts of starting in center field for the Yankees, it's a bona fide American tradition. In fact, Spring Training is the longest and most popular "preseason" in all the major sports!
Major League Baseball is famous for its 162-game seasons, and for sports bettors, the game is a perfect blend of daily odds, weekly strategies, and monthly stretches. However, despite the MLB's marathon-length regular season, most enthusiasts of legal MLB betting action are so eager to get started that they – like the players and teams they wager on – are all in months ahead of time, betting on Spring Training odds as soon as they're available in mid-February.
That said, most domestic books won't have a robust selection of MLB exhibition game odds, which is precisely why you need our legal MLB Spring Training betting guide in your dugout. Here, you can learn all you need to know about Spring Training baseball betting, where to find the best odds and lines, and how to gamble on the game legally and safely.
Is It Legal To Bet On MLB Spring Training?
Absolutely. US residents and international gamblers alike can place legal bets on College baseball, MLB games, MLB All-Star game odds, MLB playoff odds, or MLB Playoff bracket odds at any of the best-rated overseas betting sites listed here. These sites violate no federal US gambling laws, and individuals are free to enjoy baseball betting – and real-money gambling on any other sports or tournaments they wish – with these operators.
In one US state – Washington – there are laws barring online gambling in general, but these have never been enforced as regards private individuals wagering on sports over the Internet. Still, please be sure to follow all local gambling mandates. You don't want to get tossed for batting out of order!
Best MLB Spring Training Betting Sites
Where To Bet On 2023 MLB Spring Training
Despite the overwhelming popularity of betting on baseball in the United States, you can't find Spring Training odds at most domestic books in legal sports betting states. This is because the MLB – in its tepid but practical support for sports betting in general – has formally requested that domestic sportsbooks refrain from posting Spring Training betting lines (as well as minor league betting lines).
This is mostly a nod to the league's "integrity" standards as regards sports betting in general. The MLB wants to ensure that young players who get invited to Spring Training (but are longshots to make their respective Major League teams) aren't encouraged to wager on sports or affect outcomes on behalf of shady third parties looking to cash in timely bets.
Though not a particularly reasonable fear, this does mean that you can only find comprehensive Spring Training odds at legal online sportsbooks operating overseas. All of the sites listed on this page are trusted online sports betting operators, and they each have Spring Training odds in their "Spring Training" or "MLB Exhibition Games" sections.
MLB Spring Training Odds
When betting on Spring Training baseball, you will have access to limited wager types. For betting on baseball, Spring Training games usually only feature straight moneyline odds. That is, you can only wager on winners and losers, straight up. There are no spread bets, totals bets (aka over/unders), prop bets, or futures to choose from.
This is because Spring Training is training, and the games feature a large number of unknown players. As a result, many of these games will have identical -110 or -115 moneylines on both sides of a given bet. That said, games featuring league juggernauts vs. perpetual underdogs will be handicapped accordingly.
And as always, different baseball sportsbooks will have different odds posted for any given contest, which means you should shop lines to find the best deals when betting on Spring Training baseball.
It's also worth pointing out that Spring Training isn't just for players, but it's also for new bettors. If you're 18+ and just getting started betting on MLB baseball, Spring Training odds are perfect since they're limited to straight wagers.
These are the easiest bet types to understand, and a few weeks of betting on exhibition games will get you familiar with the pace of baseball betting as well as things like bankroll management and general betting strategies, all of which will help you become an ace by the time the regular season takes the mound.
MLB Betting Apps For Spring Training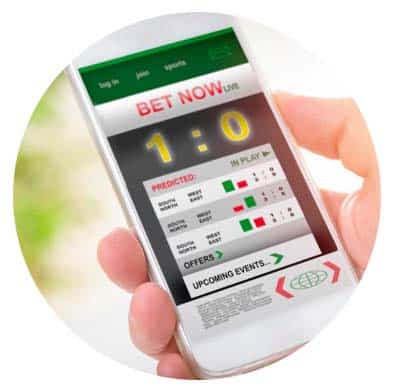 All of the best MLB Spring Training betting sites have their full odds boards available via desktop, right through your typical web browser. Of course, most sports gambling these days takes place on mobile devices, and fans of the MLB – particularly those who watch games live or spend lots of time at their local ballparks – don't want to be tied to their home computers to bet on their favorite players and teams.
For such bettors, mobile sports betting is the travel team champion, allowing site members to bet baseball from anywhere in the USA. All the top legal sportsbooks have full mobile betting portals, with responsive designs that dynamically adjust to any size of screen.
Best of all, mobile betting doesn't require a dedicated iPhone betting app or Android betting app. Instead, you can bet on baseball Spring Training odds right from your mobile web browser, anywhere you have an Internet connection.
Spring Training Locations for Major League Baseball
Despite having 30 teams spread around the country (and a single club way up in the Great White North), MLB Spring Training takes place in just two states: AZ and FL. During Spring Training, Arizona hosts the Cactus League, while Florida hosts the Grapefruit League.
These states aren't just warm and temperate, which is a baseball preseason prerequisite, but they also have the infrastructure to support each team. Small stadiums are situated throughout both states, and they can usually seat 5000 to 10,000 fans.
Of course, these states currently lack legal domestic sports betting, but you can still wager on Spring Training thanks to full mobile sports betting options from every operator. You can wager on your favorite MLB teams and their hardworking "farmhands" wherever you are – which should be the grandstands because there's nothing quite like being at an MLB exhibition game in person.
Arizona Diamondbacks – Salt River Fields at Talking Stick (Salt River Prima-Maricopa Indian Community)
Chicago Cubs – Sloan Park (Mesa)
Chicago White Sox – Camelback Ranch (Phoenix)
Cincinnati Reds – Goodyear Ballpark (Goodyear)
Cleveland Indians – Goodyear Ballpark (Goodyear)
Colorado Rockies – Salt River Fields at Talking Stick (Salt River Pima-Maricopa Indian Community)
Kansas City Royals – Surprise Stadium (Surprise)
Los Angeles Angels – Tempe Diablo Stadium (Tempe)
Los Angeles Dodgers – Camelback Ranch (Phoenix)
Milwaukee Brewers – American Family Fields of Phoenix (Phoenix)
Oakland Athletics – Hohokam Stadium (Mesa)
San Diego Padres – Peoria Sports Complex (Peoria)
San Francisco Giants – Scottsdale Stadium (Scottsdale)
Seattle Mariners – Peoria Sports Complex (Peoria)
Texas Rangers – Surprise Stadium (Surprise)
Atlanta Braves – CoolToday Park (North Port)
Baltimore Orioles – Ed Smith Stadium (Sarasota)
Boston Red Sox – JetBlue at Fenway South (Fort Myers)
Detroit Tigers – Publix Field at Joker Marchant Stadium (Lakeland)
Houston Astros – FITTEAM Ballpark of the Palm Beaches (West Palm Beach)
Miami Marlins – Roger Dean Stadium (Jupiter)
Minnesota Twins – Hammond Stadium (Fort Myers)
New York Mets – Clover Park (Port St. Lucie)
New York Yankees – George M. Steinbrenner Field (Tampa)
Philadelphia Phillies – Spectrum Field (Clearwater)
Pittsburgh Pirates – LECOM Park (Bradenton)
Louis Cardinals – Roger Dean Stadium (Jupiter)
Tampa Bay Rays – Charlotte Sports Park (Port Charlotte)
Toronto Blue Jays – TD Ballpark (Dunedin)
Washington Nationals – FITTEAM Ballpark of the Palm Beaches (West Palm Beach)
Spring Training usually starts in mid-February each year. Typically, pitchers and catchers report to Spring Training first, with other players reporting a week or so later.
Spring Training is roughly 5-6 weeks long, starting in the middle of February and ending a day or two before the beginning of the MLB regular season in late March or early April.
The numbers vary slightly each year, and they also vary between the Cactus and Grapefruit leagues.
For 2021, Cactus League teams will play 28 games in 30 days. Grapefruit League teams on FL's east coast will play 24 games, while those on FL's west coast will play 28 games.
These changes and limits are mostly due to travel-related COVID-mitigation factors.
The most popular teams during Spring Training are typically the most popular clubs during the regular season and historically. That means that more people tune in to Yankees Spring Training games than any other team's exhibitions.
You can also add teams like the Red Sox, Dodgers, Cubs, Braves, Giants, and Mets to the list.
If you thought Spring Training tickets would be much cheaper than typical MLB regular season tickets, you'll be surprised, because there's not much of a savings. The average ticket prices for both Spring Training leagues are as follows:
Grapefruit League Ticket Price: $56.80
Cactus League Ticket Price: $45.10
In general, Grapefruit League tickets cost more than Cactus League tickets, as that's where many of the most popular MLB teams play. Yankees Spring Training tickets, for example, are the most expensive, averaging $120 per ticket.
Meanwhile Phillies Spring Training tickets are $101 on average, while Red Sox Spring Training tickets are about $75 each. After that, there's a big drop-off, and you can expect to pay between $35 and $50 for tickets to all other Grapefruit League games.
In the Cactus League, Cubs Spring Training tickets demand the highest average price at $85. Surprisingly, Dodgers Spring Training tickets are just $51 on average, despite the team being the defending 2020 World Series champions and World Series betting favorites all year long.
Similar to Grapefruit League teams, most Cactus League teams have single game ticket prices between $30 and $45.
In the Grapefruit League, Pirates Spring Training tickets average about $36, while Detroit Tigers Spring Training tickets are roughly $39 each.
In the Cactus League, Reds Spring Training tickets are $30, as are Brewers Spring Training tickets. Both Royals Spring Training tickets and Mariners Spring Training tickets are $32 on average.
No.
While MLB: The Show is extremely popular in the world of legal eSports betting – and though the game does feature a Franchise Mode where Spring Training is held – this mode is not a part of the typical MLB: The Show eSports contests.
Thus, you will not find any specific eSports odds on MLB Spring Training simulations.
MLB Spring Training Resources: Stats, Scores, And Standings